The House From 'Steel Magnolias' Is Your New Girls' Trip Destination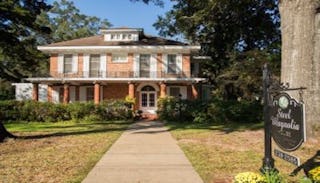 Image via Steel Magnolia House.com
The house looks just like it did in the movie, even the 'Shelby Room'
Be still our wannabe Southern belle hearts — the house from Steel Magnolias is now a bed and breakfast. And once you see these photos, you'll be making reservations and packing your bags faster than Truvy can tease the hair on your head.
While it's been more than 30 years since M'Lynn, Shelby, and the gang made us all sob for the first time, the film will remain a staple in literally every woman's Top 10 list for all time.
So naturally, we're tickled pink — ahem, sorry, we mean tickled "blush and bashful" — at the idea of staying at the sweeping Southern estate where it all went down in the shape of a red velvet armadillo cake.
You get the full movie experience firsthand by staying at Steel Magnolia House in Louisiana. Fun fact: the house itself was actually the real-life family home of Robert Harling, the playwright behind the original stage version of Steel Magnolias. The story itself is based on the the true story of his sister's death from diabetic complications and a failed kidney transplant — just like his protagonist Shelby.
But before we start choking back sobs just thinking about that Sally Field funeral monologue, let's dive into the real reason we're here: THIS. HOUSE.
The best part of the charming bed and breakfast? The "Shelby Room." Which is, of course, the perfect shade of blush. Or bashful. Whatever — it's her signature color, so who cares?
And the immediately recognizable staircase looks exactly the same as it did in the film.
Surely you remember the famous scene where Drum shoots at the birds in the tree prior to the reception? Of course you do. If you didn't, Miss Ouiser would slap you silly.
Well, here's the gorgeous wrap-around porch and pool area.
And if you feel like sipping some sweet tea — and we don't just mean hot gossip — the front parlor is practically fit for Scarlett O'Hara herself.
There are six suites in total — each named for beloved characters from the film. Personally, I'd reserve the Ouiser or Clairee suites without a second thought (and they actually exist, I checked). Those women are my people.
Visitors can also check out actual relics from the movie and other Steel Magnolias memorabilia — from costume sketches to behind-the-scenes photos.
The site for the house recommends planning ahead and booking early. Honestly, it's the perfect place to go on a road trip with your own Annelle, Truvy, Ouiser, Clairee, M'Lynn, and Shelby and enjoy some girl time and a little good ol' fashioned southern hospitality.