'Steel Magnolias' Is Returning To Theaters For Its 30th Anniversary
by Cassandra Stone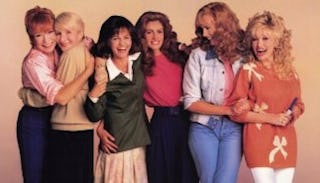 Image via IMDB
Grab some tissues, your favorite shade of pink, and a girlfriend or two
It'll feel like you're right inside Truvy's Beauty Shop with the rest of the gang! Steel Magnolias is heading back to the big screen for the film's 30th anniversary this May. Get ready to laugh and cry along with Truvy, M'Lynn, Shelby, Clairee, Ouiser, and Anelle in the theater.
To celebrate three decades since the film's release (!!!) Fathom Events and Turner Classic Movies (TCM) are teaming up to bring the much-loved story of Southern sisterhood back to movie theaters.
Raise your hand if you learned some of life's most valuable pieces of wisdom from this movie.
Steel Magnolias is just one of 14 classic films coming back to the big screen this year, thanks to the TCM Big Screen Classics series. Even though it doesn't show until May, tickets are available to purchase for all the TCM series' films on Fathom Events right now.
(Tip: As someone who tried to book tickets to The Wizard of Oz nearly a month in advance, only to find very limited seating for all showings, I recommend buying them as soon as you can.)
It's the perfect excuse for a girl's night out with your favorite friends. You could even coordinate outfits in varying shades of "blush" and "bashful."
Steel Magnolias is one of those movies that will make you late for something, because whenever it's on — you sit and you watch. You just do. Laundry, cleaning, and errands be damned. Sometimes you just need to laugh and cry it out, and what better group of women to provide that type of emotional rollercoaster than Sally Field, Julia Roberts, Shirley MacLaine, Dolly Parton, and Olympia Dukakis?
Depending on how big a fan you are (and really, who isn't an enormous fan of this movie), you could potentially make a girls' trip around the movie. Sure, you could see the movie in your local theater. Or you could travel down to Louisiana, see it there, and stay in the actual house from the movie with your friends.
Yep, M'lynn and Shelby's beautiful, sweeping, perfectly Southern house — where the wedding reception took place — is now a bed and breakfast. There's even a "Shelby" room. And yes, you guessed it, it's decorated in varying shades of light pink.
Basically, the movie has been a national treasure for 30 years and any way you want to pay homage to it is the right way. There's something so sentimental about being able to see an old movie at the movie theater.
"Every year, more and more film fans have flocked to the TCM Big Screen Classics series, proving the lasting appeal of these movies and the thrill of seeing them in a movie theater," Tom Lucas, Fathom Events Vice President of Studio Relations, says in a news release. "From spectacular musicals and grand Westerns to epic adventures, we are tremendously proud of this year's lineup and our continuing partnership with TCM."
Other movies included in the TCM lineup: My Fair Lady, Hello Dolly, To Kill a Mockingbird, Field of Dreams, and When Harry Met Sally. Now go on and get yourself some tickets to Steel Magnolias before we send Ouiser after you.