10 STEM-Inspired Gifts For Your Favorite Tech Kid
by Team Scary Mommy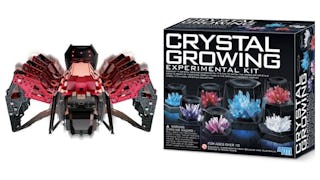 WALMART.COM
If you have a child who loves science, technology, engineering, and math and constantly wants to be challenged, we've got some stimulating things in store for them. And let's face it, these items are a gift to you as well so you don't have to be racking your brain about how to keep you amazing STEM lover stimulated.
A crystal growing kit is the perfect thing for your child to get excited about. Not only will they have fun making it, they will look forward to seeing its changes everyday.
Here's electronics project kids can actually indulge in — and you will have peace of mind knowing they are safe and won't blow anything up. Those are just a couple reasons this Snap Circuits Junior is so darn amazing.
A science kit will offer many fun experiments for them to try out since it contains all the things your child needs to lear about chemical reactions.
A kit that contains everything your child needs to build a robot — and control it themselves — this will be a life saver when you are trying to catch up on your favorite show and need a mommy timeout.
Every science lover needs their very own lab. We love this one and know it your kiddo will be over the moon about getting something this magical.
This solar system kit has everything needed to make a glow in the dark solar system, which is truly the best way for your child to absorb information and learn all about space.
The perfect way for your little to see the night sky — this Geosafari telescope will allow them to get close and personal to the moon and starts and show them the world in a way they've never seen.
This brightly colored 360 piece set will have you child building away. And the best part is it comes with its own bag to hold all the pieces so you can take it with you when you travel.
This 20-piece magnetic set that is perfect for young learners to explore as soon as they can hold a toy. It stays together using magnetics and it's so sweet to watch them discover how the pieces go together.
A robot that can draw — now that will blow their mind and this is the perfect one to add to their robot collection.
STEM kids are special and we wouldn't change their minds for anything. They love to learn and are curious about the world and Lord knows we can't always be their brain-food, but these picks certainly can help.
We are a participant in the Walmart.com Affiliate Program and may earn fees by linking to Walmart.com and affiliated sites.
This article was originally published on