7 Reasons Why Step Aerobics Is Still Totally Awesome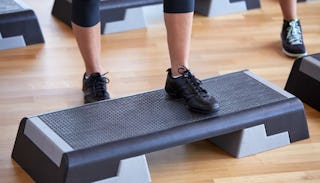 Syda Productions / Shutterstock
I remember my very first step aerobics class: It was 1989 and my sophomore year in college. One of the girls from my hall came prancing into my room wearing black spandex tights, an oversized T-shirt, and totally choice Avias and asked if I wanted to go with her to this new high-impact aerobics class at the gym. Never mind that it started at 9 p.m. or that I chose to wear my high school boyfriend's boxer shorts and my The Dream of the Blue Turtles tour T-shirt.
I stacked two purple risers under my green step like the rest of the college-aged women in the class, piled my big hair into a scrunchie, and tried to keep up. Talk about dorky! At first I couldn't catch the beat, had no idea what "repeater knees" meant, and had to keep pulling up my boxers. But a few classes and two new pairs of spandex tights later, I found the four-count beat and got the hang of repeater knees. By the end of each hour, I was glistening with sweat and high on the up-and-down dance routines.
Nowadays there are a boggling number of workouts to choose from—TRX, spin, interval training, kickboxing, barre—yet it's step that keeps me coming back to the gym. Here are a few reasons why it's still a rad workout:
1. It Doesn't Hurt My Butt
I know everyone is totally into cycle classes now (and I am too), but balancing my butt on a hard, skinny bike seat for an hour is very uncomfortable, to say nothing of the vulva chafing. Step class is all about the feet, which makes it very safe for those of us with sensitive behinds, unless of course you trip and land on your ass. Embarrassing!
2. The Music
You just can't get that same club-like music experience in other fitness classes. Zumba is too serious dance-y and interval training is too boot campy. While it might be Taylor Swift keeping the beat instead of Taylor Dayne, the music still has the same booty-shaking vibe it did in the '80s. Meanwhile, you're sure to get a teacher or two who loves to throw it back every once in a while with all time faves like "Pump Up the Jam" and "It's Raining Men." Hallelujah!
3. I Am Burning Serious Calories
No matter the latest newfangled fitness craze, step aerobics is still a high-intensity workout, which means I can blaze through mega-calories. According to Harvard Medical School, I can burn about six times more calories doing step than I do sitting quietly. That means if I do step once a week, I can sit quietly the other six days. Awesome!
4. The Gear Is Still Pretty Rad
OK, so maybe we don't wear Reebok high-tops and thong leotards anymore, but I have been known to don a fashionable headband (aka sweatband) and high-tech moisture-wicking leggings. All these years later and I'm still a sucker for workout clothes. Good thing gym-to-street wear is so trendy in this new millennium.
5. I Don't Need to Impress Anyone
I don't need to get all fancy throwing extra heart-pounding moves into the routine, like tick-tock or reverse V-step. In fact, I'm so confident in my stepping abilities that I only need to use one riser! Also, my joints can't take it like they used to, so there's that.
6. I Can Do It in My Sleep
As a 25-year-plus veteran of step aerobics, I can practically read the instructor's mind. The core moves—basic right, turn-step, over-the-top—are so ingrained in my mind that I can pretty much zone out during whole minutes while contemplating what really happened to Joanie and Chachi.
7. I Can Get My Groove on Without Looking Like a Total Idiot
When else am I going to shake it like a Polaroid picture in public—while sober—and not feel like a middle-aged Olivia Newton-John? I'm supposed to be stirring the soup and doing the Charleston, duh!
I'm open to all kinds of exercise, especially if it doesn't leave me with a sore back, keeps me fit, and makes me feel cool. I'll try anything, but I'll probably always come back to step with its psych-me-up tunes, solid, no-slip board, and ever-comforting cue of "corner-to-corner knees!"
This article was originally published on