When My Father Came Out At 50, I Worried – Until My Stepdad Came Along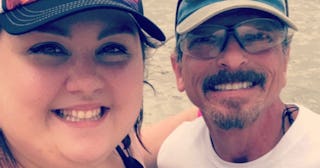 Katie Cloyd/Instagram
My parents got a divorce when I was almost thirty because my father is gay. People always assume he dropped this information on my mother like a nuclear bomb after thirty years of marriage, leaving her alone and gobsmacked. That's not how it happened. Their story is theirs alone, but I will tell you that they chose to move onto separate lives as a team. They made careful choices over a period of time to protect their hearts, their family and their future. My mom and dad are still close friends. It's not a sad story—it's a story about growth.
A couple years after their divorce, my dad met a man named Doug. When it became clear that Doug was going to be a permanent part of his life, my father introduced him to my family. At that time, my husband and I had a three-year-old and a newborn. I was nervous to introduce them to anyone my parents were seeing because I didn't want them to become attached to someone who wouldn't stick around. Gratefully, Doug did stick around. A year after our first meeting, I stood in the sunshine on a beautiful February afternoon as one of two people to witness my father and Doug becoming husbands. In that moment, a stepdad was born.
He is ours forever.
Doug never had children of his own, so he didn't imagine a future filled with the laughter (or chaos) of grandchildren. When he married my dad, he got a stepdaughter with two children. His whole future changed. I was afraid that it wouldn't necessarily feel like a positive change. What fifty-five-year-old man wants to go from a life of peace and quiet and lazy days by his pool to a life filled with diapers and high chairs and swim vests and mayhem?
But I've been the luckiest. Sure, we've had our growing pains, but "GrandDoug" has become a second grandfather to my children in every single way. He loves them in a way I never expected. We've even added one more since we "got him," and he hasn't batted an eye.
It's not just Doug's relationship with my kids that makes me the luckiest.
I have two loving parents, so the idea that I'd have room for a third never really crossed my mind. As it turns out, when it comes to people in your corner loving you and cheering you on, there's always room for one more.
Doug isn't a mushy, demonstrative kind of guy, but he is a solid, reliable kind.
I don't necessarily think to call my stepdad to bitch about life's little annoyances, but I know I can call him when I can't get to my kid's school in time to pick them up and he will be there.
I wouldn't ask Doug to buy me an expensive gift, but I know if we hit a financial rough patch, he would come through to make sure we had what we needed.
Doug is proud of me. He is proud of the work I do, the way I raise my children, and the beliefs that I hold.
If Doug has something I need, it's mine. No questions asked. The first year we bought a new home, we didn't have Christmas decorations, and Doug went into his attic, pulled down a lifetime of Christmas décor and told us to take anything we wanted. He's one of those guys who has literally every practical and impractical thing you can think of, and none of it is too precious to him to give it to someone else who needs it.
Having Doug in my life has made me better. I didn't see my parents' divorce coming. I never expected to have to see my parents with other people, and I definitely didn't envision having anything resembling a stepdad enter my life at age thirty-two. It's a relationship I had no clue how to navigate.
But when my life played out that way, the universe decided to hand me Doug. I couldn't be more thankful.
My father is one of my best friends, and my stepdad makes him happy. That's one of the biggest blessings in this whole bonkers situation. When my dad came out at age fifty, I had no idea what he was in for. Would anyone love him? Was it too late? Would he be alone, sad?
But he isn't alone or sad. He has my stepdad. They have a happy life with a gorgeous backyard and a giant pool that I have lovingly named The Gay Oasis. They are raising a little mini goldendoodle named Dolly, and she's the sister I never had. I buy her a present every time I see cute dog stuff while I'm out. My dads have been through a lot in their handful of years together, and their life together is a beautiful thread woven into the tapestry of our collective future.
Oh! How could I forget to mention that my mom is engaged now?! Her fiancé is Doug's polar opposite in many ways, but he is perfect for her. We all love him. Having Doug in my life has shown me that my heart has room for all the dads and dad-like peeps that might come my way. When my mom marries her beau, I'll be an old pro at opening my heart and family and scooping him into our unconventional fold. I hope he's ready.
For the rest of my life, when Father's Day rolls around, I have some extra reasons to celebrate. That feels really lucky to me. When it comes to father figures, I say the more the merrier. There's more than enough love here to go around.
This article was originally published on