'We Don't Use The Term Stepfather': Photo Of Dad And Daughter Melts The Internet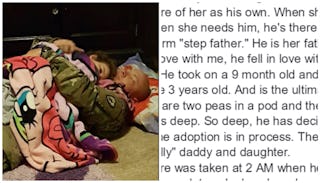 Image via Facebook
Sweet photo shows the bond between a dad and his step-daughter
Being a parent is about more than just a biological connection — it's about love, caring, and sacrifice. This photo from mom Karisa Smith of her husband and daughter (his step-daughter) shows just that.
Smith posted this photo to the Facebook group, Love What Matters, which "celebrates love in all forms." She wrote: "They aren't related by blood, but they are daddy and daughter. My husband goes above and beyond to take care of her as his own. When she cries, he's there. When she needs him, he's there. We don't use the term 'step father.' He is her father."
Anyone can have a kid, but not everyone can be a parent. Smith's husband may not be her daughter's biological father, but he is her dad in every way that counts. After all, "being there" is what a parent does.
"When he fell in love with me, he fell in love with my daughter," wrote Smith. "He took on a 9-month-old and she is now soon to be 3 years old. And is the ultimate daddy's girl. They are two peas in a pod and the love of a father runs deep. So deep, he has decided to adopt her and the adoption is in process. They will soon be 'officially' daddy and daughter." Her use of quotation marks around the word "officially" says it all — he's already her father, the adoption process is just the paperwork.
And then there's the kicker when Smith explains the photo: "This picture was taken at 2 AM when he snuck home from work to calm her down because she missed him; he had been gone for 14 days."
Could you just…I mean, I can't…there is no way to…I'm dead. This man is clearly a soldier, who came home at 2 in the morning because his little girl — his little girl — missed him.
Some people who commented on the photo shared their own photos and stories of their non-biological parents:
"My dad has been 'my dad' since I was 9 months old also. This September my mom has been deceased 15 years and he is STILL here, present, my dad, my best friend next to my husband."
"This is my mother's brother Joe . He never had any kids and my mom died when I was 15 and immediately he jumped in to be dad since my dad was getting himself together."
"My husband…came into my daughter's life when she was 3-1/2 yrs old. She is 14-1/2 yrs now. He has been the only Daddy she has ever known. She is a total Daddy's Girl. They are so much alike. He legally adopted her after his 2nd deployment 3 yrs ago. This picture was taken when we were dating in 2006. He loved her from the very beginning."
"My dad came in my life when I was 5. I am now 30. This man goes above and beyond. He could not have children of his own but if u did not know us u would think he is my dad. 4 years ago I was told I had a mass on my brain. They transported me to a different hospital 3 hours away. He was not suppose to travel more than an hour away. He just had surgery on his back. He came it took him about 4.5 hours to get there. I was in the hospital for a little while. He was on a fixed income. He chose to get my pain meds instead of his. He was there when I got married and wanted to be here when I had my first child. This year he was diagnose with prostate cancer. I live 7.5 hours away I got in my car and was there by 5. He is my rock. Love this man to pieces when my own biological father turned his back this man said I got u!!!!!! My dad."
We love the phrase, "my Dad came into my life when…." It's a beautiful way of saying, "This man is my Dad, he just showed up a little later."
Now let's all go to our respective corners and have a good cry.
This article was originally published on