Steph Curry Sings 'Hamilton' With His Daughters And It's Adorable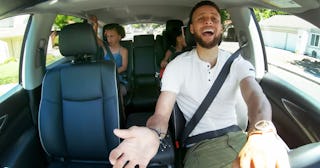 Stephen Curry/Youtube
Steph Curry singing in the car with his girls is sure to bring a smile to your face
If there's one thing Steph Curry does well (besides basketball, obvi), it's be an awesome dad to his kiddos. He posts videos pretty regularly to his YouTube channel that show some behind-the-scenes life in the Curry household, and they are always a delight to watch. But his latest video, filmed on a car ride with his daughters Riley and Ryan, is guaranteed to put a smile on your face no matter how your day is going so far.
In the video, Steph and the girls are heading on a trip to a surprise destination. They spend a little time trying to guess where they're going (the zoo? the park?), and telling Dad some killer jokes (what do you call a cow with no legs? Ground beef, of course).
Eventually, the girls request music. And when Dad turns on the radio, the song that's queued up is clearly a family favorite: "You'll Be Back" from the Broadway musical Hamilton.
"Uh oh, it's that 'Hamilton.' Ryan, you know the words, right?" Steph asks as all three of them launch into a family rendition of the song. It's too cute. You just have to watch it. This whole family is just crazy-cute.
This brings me back to when I was around Riley or Ryan's age. Some of my favorite memories of car rides with my family are when we would all sing together. For us, it was more often than not "Smooth" by Carlos Santana, one of my mom's favorites. And I am not ashamed to say my older brother and I could belt out every single word to Charlie Daniels' "The Devil Went Down to Georgia" by the time we started elementary school.
Steph Curry and the girls have to cut their own family song a little short when they arrive at their surprise destination: Ice cream! But when everyone piles back into the car with cones in hand, they pick up right where they left off and give the song the grand finale it deserves. Ugh, so sweet.
The Curry family is one of our favorite celeb fams to follow. Steph's wife Ayeesha posts family pics to Instagram all the time, making it easy to keep up with what the adorable crew is up to all the time (which includes banishing haters from their lives). And remember the time Steph Curry responded to a letter from a fan asking him to include girls' sizes in his shoe line? He's raising his girls to know that they can do anything boys can — in between Hamilton numbers — and we're here for it.
This article was originally published on