Steph Curry Releases New Sneaker Co-Designed By 9-Year-Old Girl Who Wrote To Him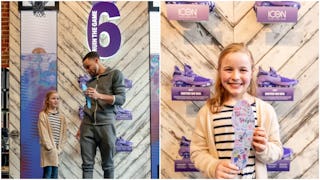 Image via Under Armour
The girl who asked Steph Curry for sneakers in her size helped design his latest pair
Here's some really lovely news to kick off your weekend. In November, 9-year-old Riley Morrison wrote a letter to NBA champion Steph Curry explaining that she wanted to buy a pair of his Curry 5 sneakers but Under Armour didn't sell them in girls sizes. The basketball player quickly moved to fix the issue – and just unveiled a new pair of sneakers co-designed by Morrison herself.
Curry didn't just want to make sure his shoe line inclusive to girls. He wanted to involve Morrison in the process.
"I appreciate your concern and have spent the last 2 days talking to Under Armour about how we can fix the issue," he wrote in his letter back to Morrison. "…We have something special in the works for International Women's Day on March 8th and I want you to celebrate with me! More on that, but plan to be in Oakland that night!"
Well, International Women's Day rolled around this week and Under Armour unveiled a special sneaker to commemorate the occasion. UA ICON Curry 6 United We Win was designed by Curry and Morrison, and features a drawing of two girls playing basketball alongside inspiring messages like: "Girl Power" and "Be Bold."
"It's been amazing. It's a really special experience. I never imagined that this would happen," Morrison told NBC News at pop-up shop in Oakland. "I'm really happy I wrote that letter." Curry added that the young woman is "inspiring," "wise beyond her years," and has been a game changer for the company.
"I was immediately impressed when I saw Riley's letter; that a 9-year-old girl had the courage to use her voice to call attention to an issue and keep us accountable," Curry said. "She was focused on the opportunity for ALL girls, not just herself. She's been an amazing catalyst for change – not only with my product but also with the entire Under Armour brand."
It keeps getting better. Proceeds for the shoe will directly fund a scholarship for a young woman to pursue education in a stem-related field. The recipient of that scholarship will be announced every year, right around International Women's Day. This year's winner was Vivian Wu, who landed n incredible $30,000 check for her education.
"Just a reminder that one small gesture can lead to something truly special!" Curry wrote in an Instagram post. "From a handwritten note to a $30k scholarship for Vivian Wu to pursue higher education in STEM. Riley Morrison changed the game."