Stephen Colbert Is Being Very Real About His Struggles With Anxiety
by Thea Glassman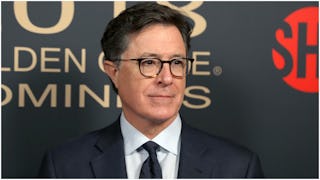 Image via Jerritt Clark/Getty
Stephen Colbert got candid about his struggles with anxiety
There's nothing more refreshing than public figures, who often seem to have it all together, opening up about their personal struggles. Stephen Colbert just got very candid about anxiety – and his story is completely honest and inspiring for anyone going through it.
When Colbert was 29 and working as a comedian in Chicago, he started having panic attacks. "My wife would go off to work and she'd come home — because I worked at night — and I'd be walking around the couch," he told Rolling Stone. "And she's like, 'How was your day?' And I'd say, 'You're looking at it.' Just tight circles around the couch."
Part of the issue, the talk show host explained, was that his closest comedy friends Amy Sedaris and Paul Dinello had moved to New York. The three had been longtime collaborators, and Colbert was worried he'd never create something artistically good again.
It was a very rough period in the comedian's life. The only calm he felt was while he was onstage performing. After that, the anxiety would hit hard again.
"I would go to the show, and I would curl up in a ball on the couch backstage and I would wait to hear my cue lines. Then I would uncurl and go onstage and I'd feel fine," Colbert recalled. "Which occurred to me at the time: Like, 'Oh, you feel fine when you're out here.' And then as soon as I got offstage, I'd just crumble into a ball again. Nobody ever asked me what was wrong! It went on for months."
He tried Xanax, which worked for awhile but didn't actually manage to squash the anxiety altogether. Even though it quieted some of the bad thoughts, he still felt everything. And then one morning, he woke up and felt so much better. He realized that the source of his peace came from the fact that he was in rehearsals for a new show.
"Creating something is what helped me from just spinning apart like an unweighted flywheel," Colbert explained. "And I haven't stopped since. Even when I was a writer I always had to be in front of a camera a little bit. I have to perform."
So basically, in Colbert's case, his anxiety was quieted by doing something he truly loves. And he's forever grateful that he found the thing that makes him happy.
"Comedy was my savior as a child. And still [is]," he said. "Last night, I went home and murdered a pint of ice cream and I watched three episodes of Veep. Season Two. It was fantastic."