Stephen Colbert Tears Up While Blasting Trump For 'Poisoning Our Democracy'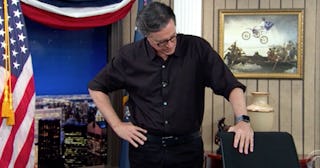 The Late Show with Stephen Colbert/Youtube
Stephen Colbert didn't feel like making jokes last night after watching Trump's awful speech
Following a press conference where Donald Trump delivered lie after lie from his Sad Man Podium at the White House last night, Stephen Colbert went on-air in the opening of The Late Show and lashed out at Trump's pathetic display. At one point, Colbert — known for making hilarious jabs at Trump and his administration on a nightly basis — grew visibly emotional. Because this election is taking its toll on all of us.
"Donald Trump tried really hard to kill something tonight," he said. "If you did not know that Joe Biden was getting close to 270, Donald Trump just provided all the proof you will ever need."
Colbert filmed the show shortly after Trump's White House address, which wasn't even fully broadcast by most major networks because of its extreme dishonesty and misleading lies. NBC, MSNBC, ABC, and CBS all cut the speech short, seemingly just completely over giving the most dangerous man in the world a platform as he flailed over his failure.
"We're taping this just a little while after Donald Trump walked into the White House briefing room, actually, and tried to poison American democracy. That's why I'm not sitting down yet. I just don't feel like it yet," Colbert said, motioning to his black shirt and pants. "That's also why I'm dressed for a funeral. Because Donald Trump tried really hard to kill something tonight."
Colbert summarized Trump's nonsensical speech, where he tried to place the blame for his pending loss on corrupt election officials and nonexistent voter fraud. Basically, it seems that he further Trump remains from 270 electoral votes, all hope was shattered in regard to a dignified transfer of power between the insolent incumbent and the Pennsylvania man who will soon reside on Pennsylvania Avenue.
Colbert, dressed in all black, explained why he chose to forego his usual suit and tie. "I was getting dressed this afternoon and I thought, 'He might try some shenanigans and it might be fitting to tell jokes while wearing something somber if he goes down that dark path,'" he said. "And I'm no prophet. It's just that he's so predictable," he said.
And he's right. For months, we knew that Trump voters would largely turn out in person and Biden voters would sweep the mail-in vote. We all joked that Trump would still pretend he won even if he didn't, because back in 2016 he said he'd "only accept the results" if he won. This has been his game all along. But that doesn't make it any less terrorizing.
"The guy does not have another gear. Get a new act!" Colbert yelled. "So, we all knew he would do this," — and at this point, Colbert had to stop, as he became choked up and had to collect himself.
"What I didn't know is that it would hurt so much," he said. "I didn't expect this to break my heart. For him to cast a dark shadow on our most sacred right. From the briefing room in the White House — our house, not his. That is devastating."
He then begged Republicans in Congress to speak up, though many of them have remained largely silent this week as the results started skewing in Biden's favor. Why? Many of them want a political life after this. They'll come around with their grift, pretending they weren't complicit in Trump's fascist regime, and they'll expect to continue getting elected in their own races. Luckily, the American people have a long memory. And if they choose to remain silent in the coming weeks, well, here's hoping their days are numbered.
Biden, for his part, has made it clear he's not threatened by Trump's tantrums. In September, he eased our collective fears with this statement: "The American people will decide this election. And the United States government is perfectly capable of escorting trespassers out of the White House."
On The Late Show, Colbert also reinforced the severity of Trump refusing to concede to reality, and how deeply his presidency has harmed our democracy:
"That office means something. And that office should have some shred of decency."