Steve Irwin's Family Wrote Touching Tributes To Him On His Birthday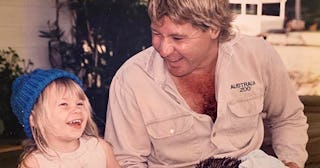 Bindi Irwin/Instagram
Bindi Irwin pays tribute to her father, Steve Irwin, on what would have been his 58th birthday
Today, Feb. 22, would have been The Crocodile Hunter Steve Irwin's 58th birthday; and to honor and remember him, his family, including his daughter, Bindi Irwin, posted sweet notes and tributes on social media.
Steve passed away in 2006 at the age of 44 during a diving accident where a stingray pierced his heart while filming for an upcoming show. Now, his children, 16-year-old Robert and 21-year-old Bindi continue to pay homage to his memory.
"Dad, today is your birthday," Bindi wrote on Instagram alongside an adorable picture of the two. "I had an extra strong cup of tea just how you liked it. I hugged Mum for you and told her how much we love her. Robert and I went on a hike through the mountains you cherished. I watched one of your documentaries with Chandler and shared stories about you. I walked through your office in the zoo and smiled at our old family photographs. Today and every day I miss you and love you beyond description. You're always with me."
Robert also shared a photograph on Twitter and Instagram of himself with the family, saying simply, "Family always." He is stepping in for his late father when his sister gets married and will walk her down the aisle.
Steve's wife, Terri, also shared heartfelt words on Twitter. If you ever watched the show, you know just how in love the pair were; and even all these years later, it's clear how much she misses him. "Today would've been Steve's 58th birthday. While my heart aches missing him every day, I'm determined to celebrate what he loved the most," Terri wrote, alongside a series of photographs. "He was my best friend, best dad and built the best zoo. I love you."
Crocodile Hunter was an instant hit with fans because it was impossible to watch and not fall in love with Irwin's passion for wildlife and conservation. He eventually introduced fans to Terri and their two kids, who made frequent appearances on his show. Since his death, we've been lucky to be able to watch his kids grow up before our eyes and hear their words about what their dad meant to them.