Steve Kornacki Is Back For GA Senate Runoffs And The Internet Is READY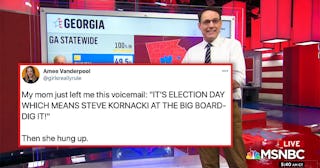 MSNBC/Youtube and girlsreallyrule/Twitter
Steve Kornacki returns to his big map on January 5, 2020 to track the results of the Georgia Senate runoff election
If you can remember all the way back to November 3, 2020, there was a little TV cutie in a pair of khakis who soothed our collective anxious election minds by being the unlikely thirst trap of 2020. I'm talking about MSNBC's Steve Kornacki, the electoral map math wizard and king of that damn touch-screen map. As the Presidential election numbers came in over several days, Kornacki was there seemingly 24/7 doing map math to keep us all updated. The man was so iconic that he caused khaki pant sales to soar at Gap and now he's back to take on the Georgia Senate runoff elections today and the internet has absolutely zero chill about it.
But first, a little bit about the Georgia Senate runoff elections happening today, January 5, 2020. Two democratic challengers in Georgia — Jon Ossoff and Raphael Warnock — are vying for Republican Senators' David Perdue and Kelly Loeffler's Senate seats. If Ossoff and Warnock win the election, the Senate will be split 50-50 among democrats and republicans, with Vice President-elect Kamala Harris having the power to cast a deciding vote, meaning, the Senate will finally flip blue. However, if only one democratic challenger wins in today's election, or neither, republicans will remain in control of the Senate.
So, to track the polls, Kornacki is back and everyone is excited about elections again. Despite the public's anxiety and madness over the election, Kornacki kept spirits high with this seemingly endless pit of energy as he maniacally drew lines and circles and said phrases like "there's going to be a range of possibilities here" and "there it is."
MSNBC alerted the masses to Kornacki's return when they posted a meme of Kornacki looking for his calculator and wrote "soon," on Tuesday morning. Naturally, the internet was all over it.
Kornacki won't start tracking the GA election until 6pm EST today on MSNBC, but in other GA election news, the New York Times is calling the Senate race a "nail biter" based on early voting information as the Georgia polls in this election have been open for a few weeks. Experts really have no idea which way this election will go, but basically, if the republican incumbents keep their Senate seats, it's going to make it very difficult for President Biden to pass legislation or advance any of his political priorities.
So yes, much like the presidential election, this GA election has the power to fundamentally change the future of America and nobody knows what's going to happen, which is why we need our boy Kornacki more than ever before to distract us during these stressful times.
Please, sir, talk map math to us.