Attention, Please: Steve Madden's Classic Platform Sandal Is Making A Comeback
by Julie Scagell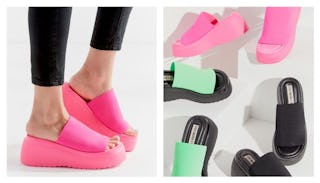 Image via Urban Outfitters
Get ready to clomp your way through summer like it's 1999 again
There are certain things that immediately bring you back to your formative years. Maybe it's a smell, a piece of clothing, a song on the radio that makes you smile wistfully. Then, there are items that you see that make you scream at the top of your lungs, immediately tagging your BFF's, demanding they drop everything because "holy crap are you seeing this right now?!?" Such is the case with the Steve Madden platform sandal.
This ghost of high school past is officially back, baby, and it's bringing some new friends with it. Steve Madden is collaborating with Urban Outfitters to house the iconic '90s sandal that approximately 100 percent of girls I knew owned. And while there are many things we've grown out of since becoming fully formed adults, the desire for these shoes are definitely not one of them.
When I tell you I wore these exclusively with every outfit, I am not exaggerating, sub-zero Minnesota winters be damned. I clip-clopped down the hallways of my high school and down the aisle of my cousin's wedding (yes, I wore these to a wedding and yes, I rocked them), noisily announcing my presence everywhere I went.
As you can see above, the company's given them an updated look with fun pink and green neon, as well as classic black, so if people can't hear you coming, they'll definitely see you. "Relive the glory days of the '90s with this throwback slide sandal from Steve Madden, exclusively for Urban Outfitters," the website says. "Stretchy banded strap across the arch, with a peep toe and sloping rubber platform sole."
The style above is selling for $70 which is a small price to pay to time travel back to your glory days. They also now come in flip-flop form and today does really feel like Christmas. These come in neon orange, black, and multi and are selling for $60.
While you're online or in an Urban Outfitters near you, feel free to pick up a fanny pack or scrunchie (both have had rebirths this year) to really make your outfit complete. Minus the wrinkles and the kids, you'll almost believe you've taken decades off your life. Almost.
I love that what was once cool is making a comeback. My kids wear Adidas and Champion, sport T-shirts of bands they've never heard whose music is 1000 percent cooler than anything they listen to today (I'm looking at you, Johnny Cash). It just feels right that they also be able to experience the thrill of the Steve Madden sandal.
I don't care how tired I get trying to pick my feet up when I walk (lest we forget they weigh about 500 pounds), I'll definitely be purchasing a pair for myself. I deserve this, and so do you.
Hear what our real-life Scary Mommies, Keri and Ashley, have to say about this when they give their (always real) thoughts in this episode of our Scary Mommy Speaks podcast.
This article was originally published on