Man Gives Engagement Ring Away For Free After Girlfriend Breaks His Heart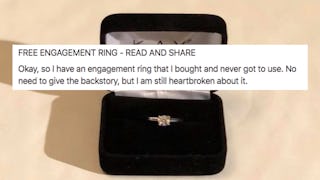 Image via Facebook/Steven Crocker
He decided to give the ring away for free to a couple who can't afford a ring of their own
Break ups are the absolute worst. Whether it's your heart that's broken or you did the breaking, it is gut wrenching to go through. One Virginia man is making the best out of his situation by deciding to give an engagement ring meant for his girlfriend to a couple who needs it, after she broke up with him.
Steven Crocker, who lives in Virginia Beach, Virginia, is a 23-year-old man on a mission. "Okay, so I have an engagement ring that I bought and never got to use. No need to give the backstory, but I am still heartbroken about it," he wrote on his Facebook page.
According to Crocker, he originally tried to sell the ring after taking some time to mend his broken heart, but was getting lowballed and frustrated.
"I tried selling this ring to a handful of places and was offered a very depreciated value that I didn't want to take because it's not about the money, for me, it's about love, and I'd hate to see a good ring go to waste, so I'm going to give it away," Crocker wrote. "I've thought about this a lot and obviously by the timestamp of this post you can tell it has kept me up at night."
Crocker's girlfriend ended their two-year relationship recently, shortly before he was planning to propose, PEOPLE reported. He already paid $1,700 for her ring and spent almost a year paying off. But no one was buying Crocker's 14K gold, 1/2 carat ring for what he'd been asking. And that's when he decided to go another way altogether.
"That's when I realized it wasn't about the money for me, and that no amount of money coming back would make me feel better," he told PEOPLE. "I thought that if I could pass it along to somebody who would appreciate it, that that might help me move on and feel better."
So he let fate (and social media) work some magic on his behalf. "I don't want to give it away to just anyone. I want to give it to a guy or girl who is so in love with their significant other and wants to take the next step but cannot afford a ring," he said. "Someone out there does, which is why sharing this post is very much appreciated. I'll send it anywhere in the US where someone is head-over-heels."
Crocker also asks for a video for prospective couples "telling me why you deserve it. Show me pictures of you and your significant other, tell me how you fell in love, tell me their favorite color; whatever you think will convince me of sending this ring to you."
This guy could have been a Bitter McBitterson and spent months, years even, wallowing in self-pity. But instead, he made a conscious decision to help another couple, his only request is that they are really in love and could use a ring.
"It's not the fanciest ring in the world but it can potentially make someone very happy for the rest of their life," he wrote. Of course the internet jumped to his defense, calling out his ex-girlfriend for leaving a guy who so clearly had his shit together. But he responded in such a respectable way, he endeared himself to everyone even more.
"Addendum 3/6, 7pm: I have no ill-will toward my ex. Comments that are less than nice about her are not welcomed," he stated. 'I will not delete any comments, but be mindful of what you are saying and who is able to see it. She is a phenomenal person and doesn't deserve anything bad to be said about her. Life happens. It's okay. This gesture is bigger than her or me."
This guy has more maturity and perspective at 23 than most people have in a lifetime.
As of this week, Crocker has received "over 400 love stories." He won't make a decision on the ring until he's read every single one, so it could be some time before a "winner" is announced. Regardless, the world is winning from his sweet gesture and I'm pretty sure he will have more than a few suitors in the days to come.