Rate Of Stillbirths In Mississippi Has Doubled Since Start Of Pandemic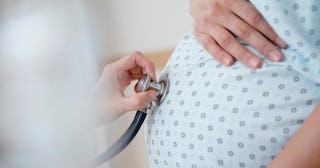 JGI/Jamie Grill/Getty
Mississippi has experienced a disturbing increase in stillbirths since the start of the COVID-19 pandemic
Much of the news about COVID-19 coming out of Mississippi right now is pretty upsetting. The state lags far behind the national average with their vaccine rate (only 38 percent of residents are fully vaxxed versus the nationwide average of 53 percent), has made news for COVID deaths in both children and pregnant people, and now, we have horrifying stats about stillbirth rates drastically increasing since the start of the pandemic.
Officials in the state announced this week that the rate of stillbirths in Mississippi has doubled since the pandemic began with Mississippi State Health Officer Dr. Thomas Dobbs explaining during a livestreamed press conference that "COVID is especially dangerous and problematic for pregnant women," and that it can also be "deadly for the baby in the womb."
"With COVID, we've seen a doubling of the rate of fetal demise, or the death of the baby in the womb after 20 weeks," Dobbs explains. "It's been a real tragedy."
Dobbs states that Mississippi has recorded 72 fetal deaths caused by COVID since the pandemic began and that number doesn't include any miscarriages that may have happened before the 20-week mark. He describes the number of stillbirths as "twice the background rate of what would be expected."
The state has also seen seven children die from COVID. "That's quite a number of tragedies that sadly would be preventable right now," says Dobbs.
State officials also note there have been "increasing deaths among pregnant women" with more than 1500 pregnant people being diagnosed with COVID since March 2020.
"We're still in the thick of the Delta surge. Sadly we've seen a pretty significant number of pregnant women not survive COVID in recent weeks," Dobbs says. "Currently we are investigating eight reports of pregnant women who have died within the past several weeks, all of whom are unvaccinated."
Dobbs stresses that the majority of the state's cases, hospitalizations and deaths are now in the unvaccinated population.
CDC Director Dr. Rochelle Walensky said in a statement last month: "CDC encourages all pregnant people or people who are thinking about becoming pregnant and those breastfeeding to get vaccinated to protect themselves from COVID-19," she explains. "The vaccines are safe and effective, and it has never been more urgent to increase vaccinations as we face the highly transmissible Delta variant and see severe outcomes from COVID-19 among unvaccinated pregnant people."