Stock Tank Pools Are All The Rage And You're Going To Want One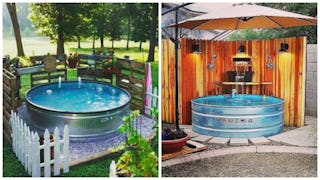 Stock tank pools are an affordable alternative to the real thing — and they're so on trend right now
As a midwestern girl who grew up on farms, I know exactly how many uses you can get out of a livestock watering tank in the backyard (or in the pasture, as was the case at my childhood home). My brothers and I spent summer days filling our water balloons and Super Soakers at the stock tank. I can't even count how many times one of the boys picked me up and tossed me into it on a hot summer day while the horses that drank from it looked on with bemused expressions on their faces. I even shaved my legs in it once, when the boys were hogging the bathroom before school. Who knew how trendy we would turn out to be.
This summer's big thing is already hitting Instagram, and it makes my midwestern heart sing: People are using stock tanks to build affordable pools in their backyards.
Since the cost of an actual in-ground pool can very easily hit five digits, a $350 stock tank, an $89 pump and, if you're fancy, a little landscaping are all it takes to have an affordable alternative that will keep you cool as temperatures soar and look super farm chic and cute. The Tractor Supply Company has a bunch of tips and tricks about how to choose your size and install.
https://www.instagram.com/p/BUGG4ygABiT/
https://www.instagram.com/p/BGsHDT5AyM_/?tagged=stocktankpool
Really handy DIYers are setting their stock tanks in the ground and surrounding them with wood decks or pavers so they really look like the real thing, which also solves the problem every farm kid has in the back of his or her mind looking at those pics: The metal part of the tank is gonna get HOT.
https://www.instagram.com/p/BUDOTnagScH/
https://www.instagram.com/p/BHn2lA2hpvw/
Who's ready to go dig a stock tank sized hole in the backyard? (*raises hand*)
H/T: Good Housekeeping
This article was originally published on