Last Minute Stocking Stuffers Guaranteed To Bring Some Joy
by Scary Mommy Team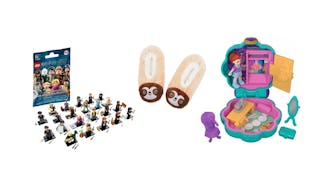 Walmart
It never fails, just when you think you're done holiday shopping you remember you still need stocking stuffers. Well, never fear, we have a few ideas that make their holiday holly jollly!
You know at least one of your kids needs this in their stocking.
Mad Libs are life! Or the were in the '90s anyway.
Because they are sloth slipper socks, and they are freaking adorable!
Don't forget to add a couple annoying toys.
Tell us that these are all over your house, too. Please?
Dropping lip balm in the stocking is Santa level: Expert.
If you never yelled "DRAW FOUR" then laughed maniacally you aren't really living.
So you have something to step on later.
If you don't put this in your kids' stockings, will you put it in ours?
Let's be real, these taste better than the original candy canes anyway.
These are super cool! They'd be a little cooler if we weren't the ones cleaning the tub, but cool no less.
The original iPad.
Because slime is life when you're not old enough to drive.
In case you miss the Legos, you can step on one of these instead.
They love these. We don't know what, but they do.
Stockings are our favorite part of the holidays! It's like a million little gifts all in one box. Don't forget to fill all the empty space with chocolate!
We are a participant in the Walmart.com Affiliate Program and may earn fees by linking to Walmart.com and affiliated sites.
This article was originally published on