Photo Of Principal Fixing Student's Haircut Goes Viral
by Julie Scagell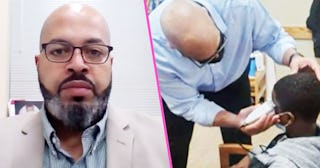 WRTV
The middle school principal took the time to really figure out why the student was upset
If you have — or have ever spent time with a teen — you know sometimes their acts of defiance have nothing to do with what they're acting up about. It's also no secret that middle school is a really hard time for kids. One middle school principal sat down with a student who refused to take his hat off — a school dress code violation — and instead of sending him home, got to the bottom of why and fixed the problem himself.
Student Anthony Moore was sent to Jason Smith's office, the middle school principal at Stonybrook Intermediate and Middle School in Indianapolis, Indiana, because he refused to remove his hat. After taking 30 minutes to talk to the boy about the situation, Moore said he finally asked him what was really going on: It turns out it's because he didn't like his haircut. Smith then went one step further and fixed his hair with Moore's permission.
"I sat across from him and asked, 'What's wrong? Why are you being defiant, why are you refusing to take your hat off? It's a pretty simple request,'" Smith told CNN. Once he heard Moore's answer, he said, "I told him, 'Look, I've been cutting hair since I was your age,' and I showed him pictures of my son's haircuts that I did and some of me cutting hair in college. And I said, 'If I run home and get my clippers and fix your line, will you go back to class?'" Smith said. "He hesitated but then he said yes."
The story was also shared on Lewis Speaks Sr.'s Facebook page, where he wrote in part, "Instead of putting the child out of school, this is what our principal Mr. Jason Smith did after he had a long talk with the student. And guess what happen after that…..the student thanked the principal, apologized for his behavior then went to class."
They also highlighted another similar story where a local barber left his place of business during the day after another student had been having a challenging time at school and stated, "I hate coming to school without a haircut."
These two situations show if you take the time and sit down and actually listen, the reason a child acts up can often be remediated with a little help and understanding.
"A GREAT LEADER ALWAYS recognizes that sometimes it's necessary to step outside of your comfort zone and daily routine to set others up for success," Speaks Sr.'s Facebook post continued.
Moore's mom, Tawanda Johnson, agreed.
"He (Smith) handled it very well to keep him from getting in trouble at school," she told CNN. "I'm just glad that he was able to handle that without … being put in in-school suspension."
Smith said ordinarily Moore would have received in-school suspension or would have been picked up by a parent, which, Smith said, "would have prevented him from being in front of a classroom teacher and giving him the education he deserves."
"So," Smith added, "it really worked out well."