Stop Using Abrasive Scrubs On Your Face -- Use This Instead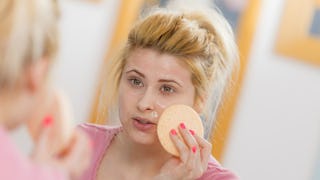 Anetlanda / Getty Images
I love having a clean, smooth face. Honestly, there are few things that feel better to me when it comes to my own body maintenance than fresh, clean skin. As I get older, skincare is something that has become more of a priority, and even though I don't go as bonkers as some of my friends, I do have a bit of a routine.
And up until fairly recently, using a walnut face scrub was a part of that routine.
But I'm here to tell you my friends, we must stop using the face scrubs we've been using. Abrasive scrubs, like the nut shell ones made by St. Ives (or their knockoff versions) or even salt or sugar face scrubs, are actually harmful to your skin. They are not exfoliating you or making you glow.
Just stop using them.
But why? It feels so good when you can feel the scrub sloughing off layers of dead skin from your face. When you use an abrasive scrub, you have instantaneous results, or so it seems. You can see that your skin looks brighter, or feels softer as you slather on your facial moisturizer (please for the love of god, don't use body lotion or anything other than facial moisturizer on your face).
Yes, this is all true, but here's the thing about abrasive scrubs: they could actually be doing more damage to your skin. How exactly? Well, those larger granule scrubs could be tearing your skin. That's right, tearing your skin.
Skincare guru Paula Begoun, who founded skincare company Paula's Choice, told New York Magazine's The Cut, "When you scrub skin with abrasive scrubs, they put micro-tears into skin. They make your skin more vulnerable to environmental damage, pollution, and sun damage."
Well, shit.
And here we all were thinking that we were doing our skin a service by slapping a scrub on a couple times a week. But it's not just Begoun who believes that abrasive scrubs are nothing short of garbage. Dr. Dennis Gross, a prominent Manhattan dermatologist (with a bestselling skincare line himself) agrees that abrasive scrubs are unhealthy.
"Scrubs are a primitive way to exfoliate," Gross The Cut. "It's like using sandpaper on your face. If you look closely at the sandpaper surface, you'll see lots of scratch marks, and that's what happens on the skin."
Gross and Begoun both believe that using abrasive scrubs, like our beloved apricot scrub, can actually make your skin age faster, and that is the opposite of what we want. No one wants to walk around looking like Yzma from The Emperor's New Groove.
Nonetheless, there are some dermatologists who believe there's a place for granulated scrubs in a person's skincare routine. Dr. Neal Schultz says that abrasive scrubs may not be a bad thing if used correctly, but that the key is using a finer granule of scrub. A micrograin or paste-like scrub will not do as much damage. The best are microbeads, but those are super bad for the environment (to the point where they're being banned in the UK), so those are out too.
How long and how often you use a scrub can also play a part in it. You shouldn't be exfoliating every day; three times a week is sufficient.
But if you're telling me not to use an abrasive scrub, what can I use?
Fear not, there is another option for exfoliating your skin to get it baby soft. They are called chemical exfoliants.
If these exist, why didn't I know about them?
Abrasive exfoliants are considerably cheaper than chemical exfoliants. They're also a lot easier to find; you can walk into any store that sells skincare products and be able to buy an apricot scrub or something similar, and only spend about $5 bucks. Chemical exfoliators come with steeper price tag and are not as easily attainable in the drug store.
"From reducing the appearance of lines and wrinkles to hydrating the skin and treating acne, using an exfoliating acid is the key to more youthful, glowing skin. These exfoliants include ingredients such as glycolic acid, AHAs, and BHA, and enzymes such as pumpkin, papaya, and pineapple," celebrity aesthetician Renee Rouleau tells Byrdie.
These chemical exfoliants do the same things we are looking for in a scrub: they promote skin cell turnover and make our skin look brighter and clearer, but they're doing it in a far gentler way that won't lead to undercover damage. The idea of putting chemicals on your face can be intimidating, but they are a lot better than tearing it with nut shells. If you're curious to try a chemical exfoliant without breaking the bank, here are a few:
There are several different sizes to these simple daily pads. A simple two-step process that has the same potency is what Dr. Gross uses in his practice without the time and price tag.
These overnight pads will work their magic while you sleep. Again, these are super simple to use, just swipe on clean, dry skin and then follow up with the rest of your skincare routine.
Tarte makes a toner skin treatment that will minimize the look of your pores and clear away excess oil, without breaking the bank. Of course, if you want to splurge, then you can go for the "holy grail of exfoliants." These products work fast, and they last a long time since you only need 4-5 drops for your face with each use.
So please, please, please, put down those abrasive scrubs! You can still save your skin, so you don't look like the old crone from Snow White and the Seven Dwarfs in the school pickup line.
Editors may receive samples and/or a share from purchases made via links on this page. All opinions are our own.
SaveSave
This article was originally published on