I'm Not a Father, So Stop Acknowledging Me on Father's Day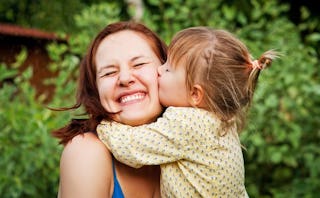 To all of the great dads out there, I hope you have a wonderful Father's Day. I know some families without fathers celebrate moms or other guardians on Father's Day. They feel they play the role of both mother and father, and they want to be celebrated as such. I am totally fine with that. I am all about doing whatever is right for your family because family comes in all beautiful forms and ways to love.
Each year, I receive several wishes for a happy Father's Day. But I don't want to be acknowledged on Father's Day. I'm not a father.
I don't want to be considered both mom and dad, and I am annoyed by the notion I should or the assumption I want to be. But being called part-dad feels the same as being called sir. I might do stereotypical dad things or wear men's clothing, but I'm not either.
I make no apologies about or efforts to hide my sexuality. I'm gay. I like women. I'm in love with a woman. I married her and am raising three kids with her. I'm a gay parent. My kids have two moms. They don't have a father. And while I can appreciate the openness and comfortableness people have with my family to go as far as to recognize I should be congratulated on a parent's holiday, I don't want to be wished a happy Father's Day. I'm not a father. I had my day in May, on Mother's Day. Or in our house, Mothers' Day.
My oldest child has been in daycare since she was six months old. We picked the school for its great reputation and diversity. But as her classroom prepared art projects for her first exposure to Father's Day, my partner and I were curious about the way her teachers would handle it. At a year old, there wasn't much for my daughter to understand. Same thing at age two. Most of her art projects were something made out of a painted hand or footprint. The teachers didn't miss a beat and wrote Mommy instead of Daddy in the poem written over a butterfly made from her feet.
When my daughter was three, she was very aware of most things. And I'll admit I was a little nervous about how she would handle Father's Day. For Mother's Day, her classroom had a spectacular breakfast, complete with a song and gift. The kids loved that all of the mothers showed up, and so did I. But my mind quickly went to the Father's Day bash her teachers would throw, and I pictured my sweet Eva sitting there, the only one without a dad.
She is confident enough to dance around the grocery store without inhibition, but is she confident enough to be an outlier in a group setting of her peers and kids who are not shy to point out the obvious? Is she confident enough to know it's OK to celebrate dads even though she doesn't have one? Is she confident enough to be openly proud of having two moms?
We asked Eva's teachers to have her make her Father's Day project for Pop-Pop, my partner's dad and Eva's only grandfather. For a long time she has understood she has two moms. She understands some of her friends have a mom and dad and some don't. And she totally understands my sneakiness when I try to give some of the fictional characters in her books two moms or two dads. How does she know Lizzie Bruin doesn't have two moms? Damn those Berenstain Bears for their lack of diversity.
When my daughter plays with her stuffed animals or dolls, there is always a mom and a dad. And when she makes up stories about her imaginary friends, they have a mom and dad too. It bothers me. Not because she wants or needs a dad or because she doesn't love me and her other mama, but because already her world is bombarded with the notion that everyone, even fictional characters, has a mom and a dad.
It bothers me because as a toddler she knows her family is accepted and loved by all of the people in her life, but she also knows she is the only one of her friends who has two moms. It bothers me that same-sex parents are not more visible in books, movies, and television shows. I wish my daughter saw more of what her family looks like in her favorite stories and cartoons.
The great thing, though, is that it bothers me way more than it bothers her. She proudly made a Father's Day gift for Pop-Pop, without question, and when we told her we weren't coming in for the Father's Day lunch, her buddy was more concerned than she was.
"But Eva doesn't have a daddy, who will be here for her?" he asked.
Eva didn't seem to care about the answer, but my partner encouraged her to give her friend's daddy a hug for Father's Day, just like her friend had given us hugs for Mother's Day. Unfortunately, most dads couldn't make it; the kids had pizza and took home their gifts. So I don't know how my daughter would have reacted in a setting meant to celebrate something she doesn't have.
Someday her friend—and hopefully most of the world—will understand that my partner and I will be here for Eva. Always. Eva doesn't need a dad or for me and my partner to be wished a happy Father's Day. It discounts the work gay and lesbian parents have done to be considered equal to straight parents. Throwing a presumptuous label, even if it's done in an attempt to be kind, somehow implies that both a mom and dad are needed to raise a child. Women and men raise children, and a house does not need one of each to be complete.
This article was originally published on