STOP THE PRESSES! A WOMAN HAD A BABY, THEN PUT A BIKINI ON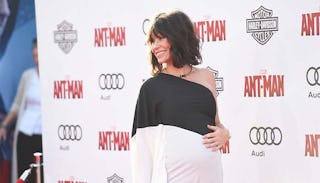 Some time in the last few weeks, Evangeline Lilly (of Lost fame) had her second child. Then she put a bikini on, went swimming, and was spied on by the paparazzi. The photos are trending, because of course.
Evangeline Lilly Welcomes Second Baby: Flaunts Bikini Body After Giving Birth
Evangeline Lilly Welcomes 2nd Child, Rocks Post Baby Body In Bikini
Evangeline Lilly went swimming. That's what she did. Then some douchebag with a telephoto lens (a.k.a. paparazzo) violated her privacy, took photos of her, and sold them to E!, who in turn churned out this story: Evangeline Lilly Gives Birth—See Her Amazing Post-Baby Bikini Body.
"While the Lost actress has yet to announce that she'd welcomed a new bundle of joy into the world, photos obtained exclusively by E! News appear to show that the actress is no longer pregnant and seemingly doing better than ever. The mother-of-two looked incredible soaking up some sunshine in a purple, floral two-piece bikini in Hawaii, while at a beach park in Kauai yesterday."
Yeah, there's probably a reason she's "yet to announce" her baby is here. Because you reward people for stalking women at one of the most vulnerable times of their lives.
I don't even want to link to these photos, but I think I have to just so you can see how invasive they are. How would you feel about someone following you around with a telephoto lens and capturing a picture of you in your giant sun hat, beach goggles, and crocs? Methinks not great. You know she hates this freaking picture. I mean, we're not friends or anything but I think I know how women like to be photographed. And snuck up on whilst recovering from birthing a human isn't on the top of that list.
So basically, eff you E! Nice try attempting to spin this into some body-positive celebration of a woman's body — but stalking women who are half dressed then dissecting their bodies on a huge platform for all the world to see is really gross. And why is this even trending? Who was the first person to use the term post-baby body? Can someone find them so I can shove them to the ground?
Pre-baby, post-baby… whatever. Evangeline Lilly looks amazing, but maybe we can stop caring so much about how moms look after they give birth so douchebag photographers like this one don't get a giant payday for spying on women.
This article was originally published on