Here Are Some Of The Stores Paying Employees During Coronavirus Closures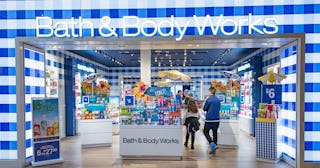 Roberto Machado Noa/Getty
Many stores have committed to paying their staff during coronavirus-related closures
In an unprecedented move for many US retailers, physical stores are being closed to customers in an effort to stop the spread of coronavirus. Though this leaves many of their employees in uncertain waters, several retail giants have stepped up to say they will be paying their employees during temporary closures.
Over the weekend, Glossier and Patagonia both announced that they will close stores and many retailers quickly followed their lead. Abercrombie & Fitch, Bath & Body Works, Sephora, REI, Nike, Urban Outfitters, Pottery Barn, PVH Corporation-owned brands like Calvin Klein and Tommy Hilfiger, and many others have publicly communicated to consumers and staff their closing dates. While some have given tentative reopen dates, many have not.
Since the outbreak in the US, companies like Whole Foods, Starbucks, and Trader Joe's that will likely remain open have all implemented new protections for workers for the first time. Others are beginning new hours and allowing those most vulnerable to shop during the first hour to help alleviate the stress and overcrowding in many supermarkets and retailers today.
Foot Locker CEO Richard Johnson assured his employees, saying they will be paid while the company closes until March 31. "I'd like to personally thank you for your continued support and patience as we navigate this dynamic situation, which is affecting all our lives in ways we never thought possible," Johnson wrote in a statement to employees. "Let's work to protect and care for one another."
In a message shared on Instagram on March 17, Kiehl's announced it will close its stores effective immediately "until further notice" and will pay all employees during its temporary closure period. American Eagle Outfitters, Chico's, and Nordstrom all followed suit, Business Insider reported.
REI announced similar plans, saying in part, "After a great deal of careful consideration, we are temporarily closing our 162 retail stores nationwide starting tomorrow, March 16, until March 27. I believe that is the right thing for our community. In fact, I believe it is our duty—to do all we can to help keep one another safe in this unprecedented moment. That also means all employees from our stores will be paid during this temporary closure."
Bath & Body Works communicated its commitment to employees, saying in part that they will "support them with pay, as well as look for other ways to ease their concerns."
As we are seeing, things are changing by the minute but kudos to the companies who are stepping up and paying employees during these closures. It remains to be seen if there are extended closings how they will be impacted but these corporations, as all of us, are taking it day by day.