Let This Video Of Stormi Nailing 'The Cuddle Challenge' Be Your Self-Care Today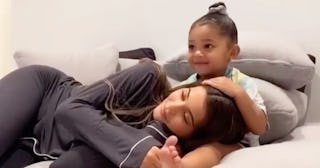 Kylie Jenner/Instagram
'Don't be afraid, Mommy,' little Stormi Webster says while stroking Kylie's hair
Today's been exhausting, y'all. Between Chrissy Teigen being attacked by QAnon trolls following the tragic loss of her baby, and anxiously awaiting the results of Joe and Jill Biden COVID-19 test (they tested negative, thank god) following Donald and Melania's positive results, it's been a wild one. That's why this video of Kylie Jenner's daughter Stormi Webster absolutely crushing the #CuddleChallenge in the most adorable way couldn't have come at a better time.
For a little background, the Cuddle Challenge — or, "Cuddle Your Toddler" challenge — shows parents gently laying their head on their kiddo's lap as they're watching their favorite TV show. What happens next is entirely up to the kid: Will they cuddle their parent in return? Or, will they push Mom or Dad away? In the case of Stormi, it was the former — and much, much more.
https://www.instagram.com/p/CF0e9nhnC4J/
In the video, which shows 2-and-a-half year-old Stormi wearing an oversized tie-dye shirt while sitting on the couch and staring at the camera, Kylie comes into frame, lays on Stormi's lap, and what happens next has to be the sweetest thing we've ever seen on Instagram: Stormi strokes Kylie's head and says, "Don't be afraid, Mommy," according to Kylie's caption.
"She said 'don't be afraid mommy,'" Kylie wrote.
The video is honestly so sweet, we've watched it umpteen times and teared up every damn time. There's something about Stormi's precious, pure, genuine concern for her mom as James Blake's cover of Frank Ocean's "Godspeed" plays in the background that completely does us in. Say what you will about Kylie and the Kardashians, but you cannot deny that Kylie's done an incredible job raising Stormi to be such a kindhearted kid.
As if you needed further proof, take, for instance, Stormi nailing the #CandyChallenge. As part of the internet challenge, parents set up a camera and a bowl full of candy. They then tell their little one to wait to eat the candy until they're told to. The real magic comes when they're left alone with the candy: Will they wait? Will they dive right in? Stormi, like the obedient child she is, waited.
https://www.instagram.com/tv/CAErDMyHnMO/?utm_source=ig_embed
"You're going to wait for mommy?" Kylie asks Stormi, to which she says yes. After "ooh"-ing and "aah"-ing over the M&M's, Stormi quietly chants, "Patience, patience, patience," and hearts everywhere melted.