Kylie Jenner's Daughter Joins Her For 'Ellen' Interview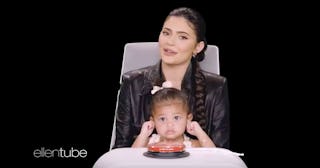 EllenTube
Kylie Jenner's daughter Stormi Webster steals the show during her "Ellen Show" appearance
Kylie Jenner is always sharing photos and short social media videos of her 18-month-old daughter Stormi Webster, but it wasn't until Stormi sat in on her mom's Ellen Show segment that we realized how much of a star this little girl is. Ellen DeGeneres interviewed Kylie and her mom Kris Jenner, but Stormi joined Kylie for Ellen's infamous pre-taped segment, "Burning Questions." This was the first time we've really seen Stormi in action and can E! give her a spin-off show already?
Kylie and Stormi answered questions like "what's the biggest mess Stormi has made?" (it involves melted M&M's and mom's white couch) and "who loves Stormi the most" (Stormi immediately yelled "Dada" because of course). During the interview, Stormi eeks out a few adorable words including her own name and "Stormi" sounds even better when she says it. Prepare to melt.
Elsewhere in the segment, Kylie and Stormi showed off their dance moves while Stormi kept herself busy by chewing on a straw.
During the sit-down interview portion with Ellen, Kris marveled at how much Stormi looks like Kylie when she was a baby.
"She is like a little Kylie," Kris told Ellen. "It's really wild. It's like, sometimes she looks at you and you think, I have to remind myself, 'No, that's my granddaughter, not Kylie.' For two seconds, it catches me off-guard."
Kylie lovingly countered with, "she is the perfect mixture of both of us," referring to her partner and Stormi's father, Travis Scott.
But it's true, Stormi looks a lot like her mama as a kid, as seen here below.
This interview comes after Kylie and Travis revealed some intimate never-before-seen footage from Stormi's birth in Travis's Netflix documentary Travis Scott: Look Mom I Can Fly. That footage includes a few precious clips of a nervous Travis waiting for his baby's arrival and Kylie nestled up with baby Stormi in the hospital bed.
https://www.instagram.com/p/B1s0RUhgG-b/?utm_source=ig_embed
In related "Stormi is adorable" news. Kylie shared this clip of Stormi eating bacon on Instagram the other day.
Stormi dips her little bacon pieces into maple syrup (a winning combination) and then at the end she turns to camera and triumphantly announces "More, more."
We hope E! is in pre-production on Stormi Takes Calabasas, because that kid is a superstar.
This article was originally published on