Stove Top Stuffing Is Selling Thanksgiving Stretchy Pants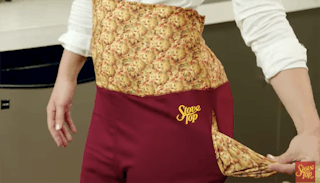 Image via Stove Top
These stuffing-themed stretch pants are exactly what Thanksgiving has been missing
There are two universal truths about Thanksgiving. First, stuffing is the best food on the table, and anyone who says otherwise can fight me. And second, after two or three plates of stuffing (and those other, inferior Thanksgiving foods), pants can get awfully uncomfortable.
But do they have to? Stove Top thinks not.
Yes, Stove Top, the brand that is basically synonymous with stuffing, is branching out this year. In addition to the best side dish ever to come in a box, the company is offering something else to take your Thanksgiving from uncomfortable to overindulgent bliss. For just $20, you can get your very own pair of Stove Top stuffing-themed stretch pants, ensuring nothing will get in the way of the multiple plates of carby goodness you plan to consume this year.
Sure, they're basically just maroon sweatpants with maternity waistbands. But those maternity waistbands are in a graphic stuffing print, which you're probably not going to be able to find at Motherhood.
According to a highly informative video, these pants are made out of the same material as astronauts' underwear, allowing them to stretch to double their starting size. While we have some questions about the veracity of some of the claims Stove Top is making about these pants, we have no doubt at all that they'd make for a hilarious (and comfy!) addition to your Thanksgiving dinner table.
To make this deal even sweeter, Today reports that Stove Top has pledged $10,000 from stuffing pants sales to donate to Feeding America, a nonprofit fighting hunger and food insecurity in the U.S. Order yours at thanksgivingdinnerpants.com and you can feel good about giving back while you feel good in your stretchy pants-clad, post dinner food coma. Thanksgiving doesn't get any better than that.