Stranger Waiting In Line Behind Teacher Buys All Her School Supplies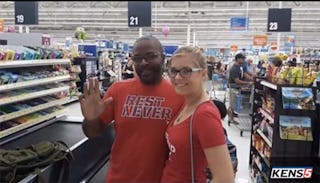 A stranger who was waiting in line behind a teacher at Wal-Mart paid for the $100 of school supplies she was purchasing for her classroom
Sabrina Drude, a 23-year-old seventh-grade science teacher in San Antonio, Texas, was doing what all too many of our teachers have to do before the beginning of the school year: she was buying supplies for her classroom.
She and her husband were in the checkout line at Wal-Mart with 200 notebooks for her students. Said Drude to Inside Edition, "A lot of my kids will say they can't afford their school supplies, or they need to wait until their parents (get a) paycheck. So I just figured it's not worth trying to make them feel bad, or have them stress over it."
You would think that this alone would be the feel-good story, except that, sadly, most teachers spend more than $500 of their own money a year on school supplies. Due to budget cutbacks, teachers not only spend money on things like hand sanitizer, tissues, and band-aids, but also basic necessities like pencils, folders, and notebooks.
When Drude got to the register, the man in line behind her asked what all of the notebooks were for. After she told him she was a teacher buying them for her students, he asked the cashier what the total was. It was $97.80. Brown paid for all of it.
"It doesn't make any sense that she should have to buy that," Brown said. "I paid for it. It was the right thing to do…I told her, 'You're a teacher, and you deserve to be recognized.'" Drude started to cry. She never got the man's name.
After Drude's story made the news, social media helped local TV station Kens5 locate Brown, who continued to inspire us in his interview with them:
"I had been keeping this $100 bill, with the intentions of responding to something in need" Just carrying around $100, waiting to spend it on someone who needs it. Who does that? Lester Brown does.
He also has a challenge for the rest of us. "Whatever you can afford…You want people to live better, you want people to have better lives, you want people to make better decisions about how they live — love thy neighbor. Love thy neighbor means do your part."
This article was originally published on