Stranger On Flight Goes The Extra Mile For Mom Of Two Flying Solo For The First Time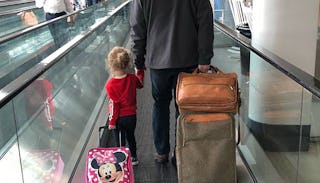 Image via Facebook/Jessica Rudeen
The kindness of a stranger helped one woman and her kids on a recent flight
Jessica Rudeen was traveling alone with her two kids, Alexander, four months, and Caroline, three, to visit her mom in North Carolina. That sentence alone is enough to make any parent shudder and for Rudeen, things didn't go exactly as planned, because kids. It was when she was at her lowest a stranger offered to help and turned what could have been the flight from hell into a newfound friendship.
"My first flights with an infant and a toddler started out with a little panic when we boarded the plane. My 4 month old was screaming his head off because, due to a series of unexpected events, I was unable to nurse him before boarding the plane," Rudeen explained. Of course, it was then that her three-year-old decided she'd rather not travel after all and "began screaming and kicking 'I want to get off the plane! I don't want to go!'
Rudeen, certain she'd be kicked off the plane with two kids in tow, was trying to figure out how to best calm the situation when a man named Todd, who was sitting next to them, offered to help. "This man reached for the baby and held him while I forced a seatbelt on Caroline, got her tablet and started her movie," she said. "Once she was settled and relatively calmed, he distracted her so that I could feed Alexander."
And it didn't end there. Rudeen wrote, "During the flight, he colored and watched a movie with Caroline, he engaged in conversation and showed her all the things outside. By the end of the flight, he was Caroline's best friend." And her luck didn't end there. They had the same connecting flight to Wilmington, so Todd helped them off the plane and even switched his seat on the next flight to be next to them.
"This guy, Todd, showed me kindness and compassion that I've never known from another person. His wife, he said, had a similar experience when their two boys were young and a stranger showed her the same kindness," she wrote. "I am blown away by God's hand in this because we could have been placed next to anyone, but we were seated next to one of the nicest men I have ever met in my life."
After they got home, Rudeen said she wanted to find Todd to properly thank him. He'd mentioned he was traveling for business and also had a son, who was now a student at the University of Arkansas living in Lenexa, Kansas, where he lived as well. Thanks to the power of social media, she was able to connect with Todd's wife and the rest is history.
Rudeen tells Scary Mommy that her advice for other parents traveling solo with kids is to take deep breaths — and accept help when it's offered. "It's easier said than done in the middle of it, but in the end, our job is to make sure the needs of our kids are met. And if someone reaches out a hand to help you, be cautious but don't be afraid to accept when you need it. Kindness is everywhere, and sometimes we are too busy to see it, too caught up in stress or negativity, or we're afraid to say yes to it."
Rudeen tells us the two families have been in contact several times. "We actually FaceTimed with them last night so they could give my daughter Caroline some encouragement for our flights back home today," she said. "We are planning on getting our families together in May."
The world needs more people like Todd.
This article was originally published on