A Street In Germany Was Accidentally Covered In Chocolate And The Comments Are Gold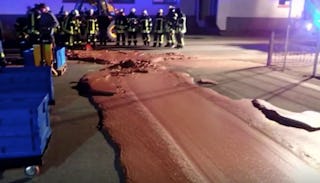 Image via YouTube
The comments here are perfection even Willy Wonka wouldn't dispute
A town in Germany is getting the real-life Willy Wonka treatment, even if it's purely by accident. About a ton of liquid chocolate flowed out of a factory and covered an entire street in a German town this week, caking it completely. While firefighters have been working hard to fix the issue, the comments section of this story is where the real sweetness is.
Truly, it's hilarious.
Apparently, a storage tank overflow at a local chocolate factory was the reason chocolate literally cascaded down the streets of the town and solidified on-site.
"About a ton of chocolate ran out into the yard and from there onto the street," a spokesman for the Werl fire brigade said in a statement. "A ten-square-meter choco-pancake formed." Around 25 firefighters were called to the scene in Westönnen to help with the clean-up.
Rarely are there news stories that appear to be plucked straight from children's books — and since we could always use some levity in the news cycle, here it is in the form of CNN's Facebook comments section.
If there is a Comments Section Hall of Fame, this woman goes straight to the top of the class for that one.
Hell yes, I'm right behind you Heidi.
Someone has to answer the important questions.
Though the incident proved a traffic hazard, the fire department was able to make the town a chocolate-free zone. And as for the factory, they say there's still plenty of sweet stuff left for holidays.
"Despite the heartbreaking incident, it is unlikely that a chocolate-free Christmas is imminent in Werl."