This Is What It's Like To Have A Child Who Has High-Functioning Autism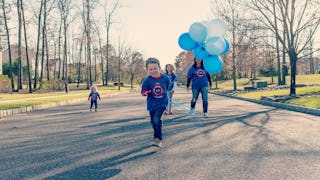 Susan Seabrook
April is Autism Awareness Month, and the autism activist in me wants to smother the world in awareness. I follow autism blogs and read about families impacted by severe autism. These families are true inspiration. My side of the autism world is on the opposite end of the spectrum. The so-called "high functioning" autism. While I am beyond thankful for how very far my son has come, high-functioning autism certainly comes with its own challenges.
We are a party of 5. My husband and I have 3 kids — Sadie (9), Bryce (6), and Lucy (2). Our oldest arrived in 2009 and is your typical firstborn. In the summer of 2011, South Jersey was hit with tornadoes, a derecho, and an earthquake all in the same week. The very same week our son Bryce was born. Coincidence? I often wonder.
With Bryce, things were different (not less) from the start. We did not feel like seasoned parents as all our past experience went out the window. Bryce was officially diagnosed with autism at the age of 20 months. This September, he will move to an inclusion classroom setting. We are ecstatic and terrified all in the same breath.
Bryce's ADOS test placed him smack dab in the middle of the spectrum, and I often feel like we are in the middle of both worlds. One side being the autism world, the other being the typical world. Feeling stuck in the middle is a lot lonelier than it looks.
From a distance, Bryce appears to be your typical kindergartener. A few short years ago, that was anything but the case. At age two — no babble, no eye contact, no pointing. He was a pro at failing hearing tests. He failed them so often and so well it took a sedated hearing test to tell us his hearing was just fine.
At age three, he transitioned from early intervention to medical pre-school. I can't talk about his teachers, aides, and therapists without crying. They will always be our superheroes. They helped Bryce tremendously. Words and progress don't always come to kids on the spectrum. It will never be lost on me that we are LUCKY. But, lucky is not a word synonymous with high-functioning autism. After all, it is still autism. It's not bad parenting; it's not a spoiled child throwing temper tantrums. It's autism.
Bryce looks typical so we get your typical shocked reactions during an excessive meltdown or when he can't handle a dog barking or when he spins himself into a supermarket display. Warning: Mama bear does surface!
It's not until Bryce is playing with a neurotypical 6-year-old that the differences become obvious. He likes playing with little Disney figures (what he calls his "guys"). It makes me happy because he seems happy. And for the longest time, he didn't know how to play.
But most kids his age aren't playing with Disney guys for hours on end. Last week, the neighborhood kids came by asking for my oldest to play. She declined. I knew Bryce was wishing they would ask him to play. After all, he is a boy just about their age. They are good kids, and they did ask him to play nerf guns. He pleaded with his words and eyes. My heart said heck yeah, but my brain remembered a similar situation that happened just weeks before. I already knew the ending to this story.
"Let him go, push him a little," says my husband. I let him go and secretly bribe my 9 year-old to join him (which happens all too often). I tell him to grab his helmet so it won't hurt if they aim at your head. I'm not quite sure what he thought, but he certainly was shocked to learn they'd be shooting at him. From there, this story goes south.
He didn't play. He was sad. I was sad. The details aren't important. So instead of sports with the neighborhood kids or recreational teams (losing isn't his forte), we joined adapted soccer. The coaches and staff are amazing, but I feel stuck. Do I try recreational soccer again, knowing he can't handle it, or do we stay and be the MVP of special needs soccer?
I don't know the right answer, there probably isn't one. I also know this isn't a third-world problem, but this is high-functioning autism. And again, I'm stuck somewhere in the middle.
Bryce tends to get made fun of for doing "baby things." There was a time when I told my best friend to remind me of something very important when this happens. Help me remember the times I used to cry because he didn't know kids were laughing at him. Take me back to those painful moments when I had to put on my sunglasses to hide my tears. I try and keep that in mind when Bryce gets made fun of. I really do. But, it's hard.
He takes a while to process things sometimes. He feels, more than anyone I know. The good and the bad. It's during those bad times when my older daughter seems to help him best. She'll make up a scenario about how someone made fun of her and how she dealt with it. My little girl. Nine years old, acting 19. I watch, appreciate the amazing young lady she has become, cry more, and grab some sunglasses.
Bryce's toddler years were stolen because of endless therapy and school, and Sadie missed her innocent adolescence because she is and will always be his person. When she grows up she will be the best speech therapist around! Heck, she's been training for it her whole life. Damn you, autism!
My family is beyond appreciative for the autism community we've found. We have an amazing local support group that provides advice, activities, a sounding board, and most importantly, LOVE. When Bryce had meltdowns and no words – I felt relaxed at these special needs events.
Now sometimes I feel guilty. I wish others had the same story and luck we had. Because I'm no fool — at the end of the day — it's luck. Being stuck in the middle can feel isolating. There are absolutely worse cards to be dealt, but I'd like the world to know high-functioning autism is still no royal flush.
This article was originally published on