I'm a Jewish, Liberal, Crimson Tide-Loving Southerner—And Proud Of It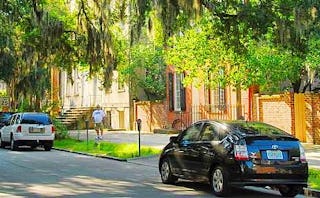 Savannah will offer so much more, I think, if we can ever get out of this car and onto the sidewalks where glorious names of the past await on stone and marble entranceways. After we find our treasure, we're heading to Paula Deen's The Lady and Sons restaurant for something rich and decadent, something fried and tart in the middle like a fat green tomato.
As we idle, a car full of frat guys pulls up next to us. The one closest to the driver's side motions me to roll my window down. Thinking that we're all friends here in the South, I do so.
"Hey man. Are you really for Obama, the Yankees and the Crimson Tide [Alabama football's glorious nickname]?"
"Yeah, I am. Funny isn't it?"
They're friendly enough, I think, but before we can test ourselves further, before the cultural paradox in their eyes changes to grounds for some sort of duel, the light turns green, we pass the snarl, and enter the heart of downtown Savannah where the rest of the day wilts us in temperatures and humidity close to 100.
Sometimes I forget what I've put on my car. I grew up in a small place: Bessemer, Ala. The town was midsize for Alabama, roughly 35,000 citizens. Small, I mean, in the sense of the vistas instilled in its sons and daughters. The opportunities, and most of all, the mindset. My parents refused to put any kind of bumper sticker on their cars. It took Alabama winning the national football championship three out of five years in the early 1960s for my father—the most avid and ornery Alabama fan I've ever met—to put a Crimson Tide car tag on the front of his Buick. My parents never supported George Wallace and were open to their friends about this choice. Once I asked them why they wouldn't put Wallace's opponent's sticker on their car, or his sign in their yard.
"Isn't Albert Brewer a good man?" I asked.
"Yes, but you never know what someone might do when you call too much attention to yourself," my father said.
This might explain why I didn't know until I was 7 that my father was Jewish. Or why I was never invited to temple with him until I asked to go when I was 15.
When I got my Honda Element back in 2004, sunset-colored (an oddity my mother crows about often: "You got an Auburn-colored car"—Auburn is Bama's bitter state rival), I decided that living my parents' fears was no longer an option. First came my Yankee emblem, as we were all living in Derek Jeter's heyday. When Alabama hired Nick Saban, next came the Crimson Tide stickers—three or four of them all depicting that other Bama mascot, the tusked charging red elephant.
In 2008, I put my Obama sticker on, and stood some good-natured (I think) ribbing from a couple of my friends. Living in South Carolina now, I find my political opposition more culturally urbane. I implored the one friend who took my political choice the hardest, a Bama man himself, that when he saw my Obama sticker to think of it as "O Bama."
He said he just couldn't do that.
I've never lived anywhere but the South: I got my undergraduate degree at a small college in Alabama, my master's and PhD at the University of Tennessee. I teach literature, Holocaust studies, Southern film, and creative writing at a tiny liberal arts college in middle-of-nowhere South Carolina. The college is Presbyterian. I was raised Methodist, but later claimed Judaism even though I never officially converted. When the college hired me, its bylaws stipulated that professors had to be members of some Christian church to teach there.
"I think I'm still a member of my mother's church," I said.
"Good enough," they said.
Still, half-Jew that I was, and am, I couldn't rest with that. Over the next two decades, I worked on the front lines to get the college's policy changed, and six years ago, we finally succeeded— in the same year that Obama was inaugurated, the Yankees won their last World Series, and the Crimson Tide beat Texas for its first national championship in 17 years, and its first under Saban.
I rejoiced in and relished that year. Today, I am still all of the things I always have been. A bit less Methodist, a bit less Jewish, too, but even more Southern than ever, if you count my newfound taste for single-origin Bourbons, my subscription to Garden and Gun, and my newest love: my Dixie Dingo dog Max. The only non-European indigenous American dog, these dingoes came over to the South from Asia when there was that land bridge joining it to Alaska. You can find specimens mainly along the South Carolina-Georgia state line, on land not quite woods, not quite plain. They usually look white when they're pups, but change to yellow over their first few years.
An old yellow dog with lamb's ears. A funny mix, my Max.
Just like me.
This article was originally published on