Student Chorus Surprise Serenades Their Teacher And His Husband-To-Be
by Valerie Williams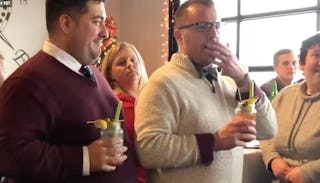 Image via Facebook/Hingham Middle School
A middle school student chorus sang a Beatles hit to surprise their teacher and his future husband at their rehearsal brunch
Would you like your heart to grow 17 sizes today? If so, we've got just the thing. A group of middle school chorus students surprised their teacher and his husband-to-be at their wedding rehearsal brunch with a rendition of a Beatles hit that will have you in tears from go.
Seriously, be prepared to happy-sob for the next few minutes.
The Hingham Middle School Junior Choral Spectrum worked on Sundays for a month learning "All You Need Is Love" so they could surprise their teacher, Christopher Landis, and his new husband Joe. They showed up at his rehearsal brunch and the moment Landis spots them and starts putting it all together, his face tells the entire story — and your tears will begin to spill.
Just watch.
Is anyone else furiously wiping at their eyes right now trying to see straight? I feel like yes, so take a moment. Collect yourselves.
This is possibly the sweetest video to ever grace the internet. Watching Landis' obvious pride in "his kids," as he so joyfully refers to them once their performance ended, is enough to make your heart explode. It's so clear that they love and admire him — and that he's over-the-moon for them too.
The entire thing was organized by HMS parents Joy Foraste and Margit Foley and at the end, Landis is presented with a gift and told how much he's loved by everyone at Hingham.
Cool. I'm sobbing all over again.
It wasn't lost on people how special it is to see a school and its community of parents loudly and proudly supporting Landis and his husband while involving the kids in this beautiful love-fest.
At a time when some teachers' jobs are at risk for openly being with the person they love, it's a nice reminder that not every place is an intolerant dumpster fire and that many people do feel that love is love is love.
Our most heartfelt congrats to Landis and his husband — we wish them every single happiness.
This article was originally published on