Lawmakers Call On Biden To Cancel Up To $50K In Student Loan Debt ASAP
by Julie Scagell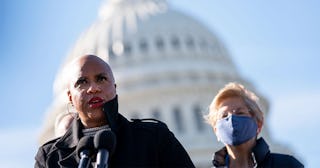 Drew Angerer/Getty
The student loan debt discussion just got turned up a notch when Senate Majority Leader Chuck Schumer (D-NY), Sen. Elizabeth Warren (D-MA), Rep. Ayanna Pressley (D-MA), Rep. Alma Adams (D-NC), Rep. Ilhan Omar (D-MN), and Rep. Mondaire Jones (D-NY) reintroduced a resolution to the tune of $50,000, putting pressure on Biden to help relieve the $1.7 trillion of federal student loan debt.
Biden advisers have said publicly they would seek congressional approval to forgive at least $10,000 of debt per borrower, a promise the now-President made during his campaign. But Schumer and others are asking for the White House to move more quickly and cancel $50,000 per borrower "with the flick of a pen" through executive action.
"Canceling student loan debt is the single most effective executive action that President Biden can take to kick start this economy," Warren said.
"President Biden has taken some good steps in the direction of student debt but we think he has to go much further," Schumer added, stating that he and Warren met with Biden several weeks ago to discuss a plan for forgiveness, according to Politico. "They have been extremely open to listening to us."
The Higher Education Act of 1965 gives the president the authority to forgive student loan debt by issuing an executive order "to strengthen the educational resources of our colleges and universities and to provide financial assistance for students in postsecondary and higher education."
Today, approximately 45 million Americans carry about $1.7 trillion in student debt. The average college debt among student loan borrowers in America is $32,731, according to the Federal Reserve. It's often tied to the cost of college tuition, which in the last 20 years, has more than doubled across ranked private and public National Universities.
The lawmakers also notes that student debt cancellation wasn't just meant to help stimulate the economy but a racial justice and equality issue as well.
"A disproportionate burden of student debt falls on people of color," Schumer said.
A recent federal study found that six years after students enrolled in college in 2011-2012, "13 percent of white borrowers in repayment were in default, while default rates were 20 percent for Hispanic borrowers and 32 percent for Black borrowers in repayment."
White House Press Secretary Jen Psaki said during yesterday's press briefing that student debt relief is an "important priority for the president" and that he remained committed to canceling $10,000 of debt per person. Later, in a tweet, Psaki said White House officials are "reviewing whether there are any steps he can take through executive action," but she again noted that the president "would welcome the opportunity to sign a bill sent to him by Congress."
Schumer also said he is committed to building outside pressure on Biden to move ahead with executive action on student loans.
"I told the president when we started on this that we were going to try to rally the American people behind this, to back him up when he decides, hopefully, to do it," Schumer said. "And he had no problem with that."