13-Year-Old Credits Spongebob For Helping Him Save Classmate's Life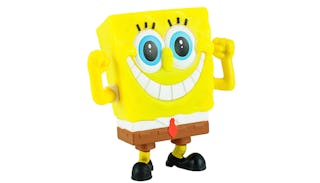 Who lives in a pineapple under the sea? Spongebob the life-saving Squarepants, that's who. A 13-year-old New York City boy credits the cartoon with teaching him the Heimlich Maneuver, which he used this week to save a choking classmate's life.
Brandon Williams tells the Staten Island Advance that he was eating lunch in his school's cafeteria when he noticed classmate Jessica Pellegrino choking on an apple. Williams rushed over, wrapped his arms around her midsection, and thrust his fists into her abdomen until she spit the apple out. A few days later, someone asked him how he knew what to do and he told them he learned it from watching an episode of Spongebob.
Both Williams and Pellegrino are special needs students who have paraprofessionals assigned to them. Williams' paraprofessional, Brian Griffin, is actually a retired cop who's trained in handling emergencies, but he didn't immediately hear the commotion because of the noisy cafeteria. By the time he noticed what was happening, Brandon had already jumped in and saved the day. Says Griffin, "He was amazing. I've never seen anything like it."
Staff at the school say Brandon deserves a medal, but he disagrees. Instead, both he and Jessica were treated to a class party to celebrate his heroic deed. Here they are talking about the crazy turn of events:
Spongebob is probably the last place any of us would expect a kid to learn a valuable life skill, but thank goodness that episode aired and Brandon saw it. According to HealthResearchFunding.Org, choking is the fourth leading cause of accidental death in the United States, and at least one child dies from choking every five days. In fact, just last week a little girl from Brooklyn choked in her school cafeteria and was pronounced brain dead after no one rendered aid.
The Heimlich maneuver is a simple and effective way to potentially save lives and it's something everyone should know how to do. It's amazing to think something as simple and off-the-wall as Spongebob Squarepants taught a kid that lesson. Just goes to show your kid's favorite silly cartoons might not be completely pointless.
Overall, Brandon displayed incredible bravery, quick-thinking, and poise under pressure. He seems like a great friend to have around, and I'm so glad that what could have been a tragic situation turned out to have a positive ending for everyone involved.
This article was originally published on