Emma Gonzales Stood In Silence For 6 Minutes During March For Our Lives Speech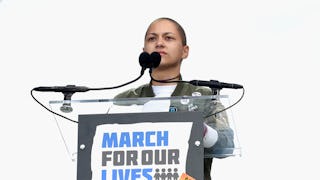 Image via Kevin Mazur/Getty Images
The power and emotion in her speech will bring you to tears
As we've endured one mass shooting after another since Columbine, it often feels like making a safer world for our children isn't feasible. Today, thanks to the children and teenagers who started the #MarchForOurLives movement and showed up to deliver powerful, moving words — the flames of hope are flickering all across the country.
The streets of Washington, D.C. were full well before the noon starting time of the march, and thousands more lined city streets in cities across the U.S. The images pouring in paint a powerful picture of an enormous portion of the country who says "no more" to gun violence.
Perhaps the most poignant part of the march were the passionate, emotional speeches delivered by the young girls who have been directly impacted by gun violence. Parkland students were joined by voices representing South L.A., Chicago, D.C. to share their stories and message.
Arguably the most recognizable face of the March For Our Lives movement, Emma Gonzalez, took the stage toward the end of the day.
"No one could comprehend the devastating aftermath or how far this reach or where this could go," she said. "For those who still can't comprehend because they refuse to, I'll tell you where it went. Right into the ground, six feet deep."
Right in the middle of her speech, she suddenly fell silent and stood on stage for several minutes. Her entire speech lasted approximately six minutes and 20 seconds — the same amount of time it took the gunman to shoot and kill 17 people, and injured 15 more, at Marjory Stoneman Douglas High School.
Edna Chavez, a 17-year-old student from Los Angeles, lost her brother Ricardo to gun violence. She shared what it's like growing up in a violent area, and the impact it's had on the families in South L.A.
"This is normal. Normal to a point that I have learned to duck from bullets before I learned how to read." She shared that her school district has its own police department, and instead of making black and brown students feel safe, they feel even more criminalized. "Instead, we should have a department specializing in restorative justice," Chavez said. "We need to tackle the root causes of the issues we face, and come to an understanding of how we resolve them."
Naomi Walder, who is just 11 years old, took to the stage and delivered one of the most poised, impactful speeches any human has ever made — not just today, I'm talking EVER. In all of speech history.
"I am here to acknowledge and represent the African-American girls whose stories don't make the front page of every national newspaper, whose stories don't lead on the evening news," she said.
Let me repeat: SHE IS 11. And she is here to pop the bubble of privilege surrounding white-centric media coverage and representation when it comes to gun violence.
The kids are more than alright. The kids are on fire and ready to light the way to better, safer days ahead. There's no way anyone can watch these speeches and not feel inspired and motivated to incite change.
None of these young students should have to give speeches like this. They shouldn't live in a world or community where gun violence affects them on such a deeply personal level — but they do. We do. And soon enough, they're going to be the ones voting for politicians with platforms that include gun control and safety solutions that don't militarize teachers and police officers. They're going to succeed where past generations failed — but we can't forget the price they've paid to have the platform they do.
All of these kids deserve better, and while we can't take away the trauma they've endured, perhaps because of them we can put a stop to the senseless acts of violence that brought us here.
This article was originally published on