Students Call Out School For Suspending Students Who Wear Braids
by Christine Organ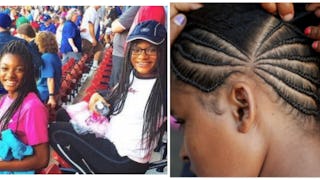 Image via Facebook
Female black students were suspended and kicked off sports teams for wearing braids
Taking the "dress code" controversy to new levels, a charter school in Massachusetts recently kicked two female black students off their sports teams and banned them from prom for wearing their hair in braids. Yep, you read that right – braids.
At the center of the controversy are Mya and Deanna Cook, two twin sophomores at Mystic Valley Regional Charter School in Malden, Massachusetts, a suburb of Boston. The school has a strict dress code that prohibits students from wearing their hair in any unnatural way. School officials first told the Cook girls to remove the braids two weeks ago, citing the policy that prohibits "anything artificial or unnatural in their hair."
When the girls didn't remove their braids, which are hair extensions, they sat through two weeks of daily detention, and were then told they couldn't attend the prom and were kicked off their sports teams.
Not surprisingly, their mom is incredulous and pissed off. "We told them there's nothing wrong with their hair the way it is. Their hair is beautiful, there's no correcting that needs to be done," the girls' mom Colleen Cook told Newsweek. She believes the policy targets students of color, who wear their hair in braids or extensions reflecting their African-American culture.
The Cook girls aren't the only ones to suffer at the hands of the school's archaic and discriminatory policy either. According to the Boston Globe, other black and biracial students have been suspended, given daily detention, and have been singled out for hair inspections. Cook said her daughters have worn braids before without problem, but that school officials starting cracking down last month.
"All the little black children were marched down for a hair inspection, whether they had braids or not, and asked, 'Are those extensions, are your braids real or not?'" Colleen Cook said.
The school says its policy – which also prohibits nail polish, make-up, hair coloring, and extra-long hair – is designed to promote equity. "Our policies, including those governing student appearance and attire, foster a culture that emphasizes education rather than style, fashion, or materialism," the school said in a statement. "Our policy on hair extensions, which tend to be very expensive, is consistent with, and a part of, the educational environment that we believe is so important to our students' success."
Anti-discrimination groups aren't buying the school's rationale, however. The regional Anti-Defamation League expressed concern about the policy, its implementation and possible discriminatory impact, calling for an investigation into the various unanswered questions.
The Lawyers' Committee for Civil Rights and Economic Justice also said the policy may violate federal anti-discrimination law. "Unlike the jewelry and nail polish prohibited in your code, braids and extensions are worn primarily by African-American and Afro-Caribbean students, raising concerns of discriminatory treatment….it is hard to understand how braiding, a deep-rooted cultural practice of people of African descent, can be put in the same category as the 'drastic and unnatural hair colors' your code prohibits as 'distracting,'" Matthew Cregor, the organization's project director, said in a letter to the school.
Even the Massachusetts Charter Public School Association is upset about the policy saying that the policy and enforcement actions "run counter to everything we — as parents, educators, as association board members — stand for and teach in our schools."
According to the Boston Globe, more than 40 percent of the school's students are people of color, but the school has just one black teacher on a staff of about 170. State education data also shows that black students at the school were more than twice as likely last year to be suspended for any infraction compared with white students.
Students at Mystic Valley are also speaking out against the policy as discriminatory and racist, pointing out that students are punished for wearing hair extensions and braids even though white students who also violate the dress code policy by coloring their hair or wearing makeup aren't punished. Seventeen-year-old Kiryannah Burkett told the Boston Globe the school's dress code is especially difficult for black students because black hair grows differently than white hair, making it hard follow the rule that hair not be greater two inches in thickness or height.
"Why call me out instead of calling out these Caucasian girls who have dyed their hair and don't get in trouble at all?" Mya Cook said. "You have to stand up for what you believe in, that's the only way things change."
This article was originally published on