3 Million Kids Have Dropped Out Of School Due To The Pandemic
by Erica Gerald Mason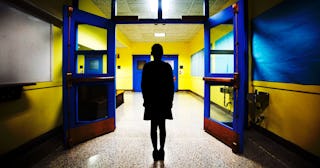 Scary Mommy and Jonathan Kirn/Getty
Teachers worry about the children who aren't showing up to virtual school
The pandemic has brought to light gender issues in the workplace, about inequities of wealth, and about how well we as a society are willing to look out for each other. Another tough conversation we need to have is one about vulnerable school children in America.
A recent story on NPR details how teachers are growing more and more concerned about students who haven't shown up for virtual classes. NPR reports the nonprofit Bellwether Education Partners estimates 3 million students might have dropped out of schools since March 2020. The organization, which was formed to help underserved youth, notes the lack of internet, disabilities, housing, and language barriers among the reasons for the dropouts.
"Ghosting' a term usually used for friends or romantic partners who disappear from other's lives, is now used in a more worrying context. When families lack Internet access, the school can't reach out to offer help to families.
In a December episode of 60 Minutes, social worker Laura Tucker speaks about her experience. "This is uncharted ground," Tucker says in the interview. "We've never had to look this hard for kids in my career."
Access to the internet can be a problem for rural school districts. "Many of our students and even our faculty and staff don't have reliable Internet," says Karen Smith, a teacher in Maryland. "We experimented with portable Wi-Fi, and in our neck of the woods, that's not really a feasible thing because you have to have a signal to bounce off of. And in some cases, they're rural enough that they don't have that option."
Yet connectivity issues aren't only found in remote areas; larger cities often confront the same issue "The Wi-Fi has been problematic for everybody," says Evan Murray, a community school site specialist in Baltimore.
When a student falls off the radar, teachers are worried about more than grades. "Our kids already rely on the teachers and the staff for a lot of different levels of support," such as food and health care resources, Murray says.
Part of Murray's duties include communicating with learners and their families about what they need to succeed – both inside and outside school walls. "We have a bunch of kids who rely on the morning breakfast and lunch programs to eat throughout the day," he says.
Before the pandemic, Murray says he devoted a lot of time doing things like helping parents get school uniforms, or working toward more parental involvement in schools. Under the current virtual classroom model, Murray's job has been more focused on tech support — getting tablets and other devices to students' homes, presuming he has the right address.
Otherwise, he spends much of his workday on the phone, attempting to find students who have ghosted. Sometimes he calls the last known number, only to find its incorrect. Other times, the students have moved to another state. When he's able to make a home visit, sometimes no one comes to the door.
There's a worry among educators that a temporary withdrawal from school may become permanent if families don't get the support they need.
"We need to communicate and check on our babies, our scholars, and make sure they're fine," Murray says.