Teens Hold 'Lie-In' Outside The White House To Demand Gun Control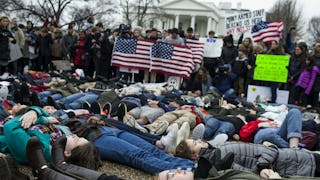 Image via Getty/Zach Gibson
Students took turns laying on the ground to symbolize the victims of gun violence
In the wake of the school shooting in Parkland, Florida that claimed 17 lives, students across the country are determined to change how this nation regulates firearms. They've given impassioned speeches and written thought-provoking social media posts.
Yesterday they took their cause straight to the capitol by staging a powerful "lie-in" protest outside the White House. Because if the adults in charge won't do anything, these teens are ready to call them out on it.
The event, organized by Teens for Gun Reform, was described as a "lie-in", where protesters lay still on the ground to symbolize the victims of gun violence. The "lie-in" portion of the protest was intended to be brief, for good reason. "The lie-in will last for only a few minutes," explained a Facebook post detailing the event, "in order to symbolize how quickly someone, such as the Parkland shooter, is able to purchase a gun in America."
During the event teens lay on the ground far longer, some of them moved to tears as they thought about the most recent school shooting and the very real fear they face walking through the doors of their schools each day. "The fact that I have to go to school and be scared is not right," Ellie Asher told to WUSA9 . "There's nothing right about it."
The protest was organized in part by juniors Whitney Bowen and Eleanor Nuechterlein, who formed Teens for Gun Reform in the wake of the Parkland shooting. "You never think it's going to be your school, or your family, or your friends, except last week there were a dozen students that went to school for the last time," Bowen said to WUSA9.
The original plan for the protest was to have 17 students participate in the lie-in — one for each victim of the Parkland school shooting. Instead, news of the protest quickly spread, with over 60 students attending from Bowen and Nuechterlein's school alone.
"Because we are under 18, we can't vote but we still want our voices to be heard," Nuechterlein told WJLA. "So, through the power of social media we want to let politicians know, and as many people as possible know, that we want something to be done."
This lie-in isn't the only way teens are mobilizing in hopes of getting Congress to pass gun reform laws. The survivors of the Parkland shooting are organizing school walkouts in March and April as well as a national "March for Our Lives" demonstration planned for March 24.
It's impossible to look at images from the protest without getting emotional. It's a terrifying thought as a parent– to envision those young lives as possible victims while the government does absolutely nothing to even try to protect them. Their determination to see real change in gun control regulation is inspiring, and proof that teens are far more responsible and capable than we sometimes give them credit for.
On the cold ground in the shadow of the president's house, these teens refuse to be ignored by the Senators, Representatives, and Congress people whose job it is to protect them. "We want to send a message to politicians, tell them that they need to do something about it, and it's their responsibility, because they're the voice of the people and we're the people," Nuechterlein said.