Teens Surprise Their Teacher Who Can't Remember The Last Time He Had A Birthday Cake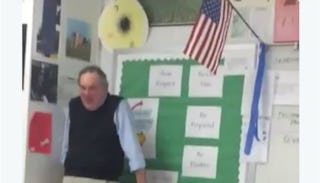 A high school teacher couldn't remember the last time he had a birthday cake, and then his students surprised him with a party.
Teenagers get a lot of criticism in the media for being stubborn, entitled, selfish little buttheads, but that's not fair. Teenagers can be all those things, of course, but they can also be the very sweetest of people, which is why when a high school teacher made an offhand comment recently about not being able to remember the last time he had a birthday cake, his class took it as a call to action and surprised him with a party that moved him, and much of the Internet, to tears.
According to Fox 5 San Diego, 59-year-old Kyle Simpler is an English teacher at Burleson High School in Burleson, Texas. He's evidently made a big impression on his class, because when he said that he couldn't remember the last time he had a birthday cake, his kids were not only actually listening to what he said, but they were all so moved that they got together and planned a surprise party for him. From the look on the teacher's face in this video, he'll never forget this cake.
The kids managed to pull off their plan without the teacher ever figuring it out, and he's visibly stunned when he walks through the door.
"Oh my God!" he cried when he saw the classroom decorated with streamers. Everyone started singing "Happy Birthday," and one of the students ran up to give him a birthday present, and another gave him a card.
Student David Tubig says the gift is a photo of the teacher's favorite jazz artist. Those kids must really know their teacher well and care about him to pick out a gift that thoughtful and personal, and that reflects positively both on them and on the teacher. He must be making a great impression on these teens for them to care about him so much.
"Thank you!" Simpler told his students at the end of the video, and he looks so happy it's positively heartwarming.
The video of the surprise has been shared more than 49,000 times on Twitter, with dozens of commenters praising the teens for doing something so nice for their teacher.
Teachers are so often taken for granted, and it's great to see kids being such kind and thoughtful people. Simpler says he doesn't remember the last time he's had a birthday cake, but it had been at least 10 years. His emotional reaction is about so much more than just a cake, though. Any grown-up can go to the grocery store and buy a cake. In the grand scheme of things, a cake is just a little thing, but the smallest things can be the most meaningful, and the teacher will probably remember this day and these great kids for the rest of his life.
There's no need to worry about the next generation. The kids are alright.
This article was originally published on