Rear-Facing Kids Are Safest -- Even If Your Car Is Hit From Behind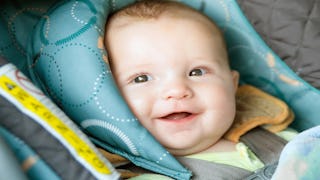 Image via Getty/RobHainer
Rear-facing car seats perform better in rear-impact accidents
Car seats can be confusing. Knowing the proper way to install them, when your child should move from rear to front facing, and when exactly to move your child to a booster seat based on their height and weight is stressful for parents and caregivers. It can also mean the difference between life and death.
There's long been debate around rear facing car seats and whether they could cause additional injury during rear-impact collisions. But a recent study from The Ohio State University found that rear-facing car seats, properly installed, protect children under two the most in that exact scenario.
Rear-impact collisions account for more than 25 percent of all accidents, so it's important for parents to really understand the implications of putting their kids in a front-facing car seat too early.
"It's a question that parents ask me a lot, because they're concerned about the child facing the impact of the crash," said Julie Mansfield, lead author of the study. "It shows parents are really thinking about where these impacts are coming from."
To study the implications of car seat positioning, the team conducted crash testing using several rear-facing car seats. What researchers found is, if installed correctly, rear-facing car seats absorbed the impact of a crash and also controlled the motion of the child better than front-facing car seats.
The study findings correlate with those recommended by the American Academy of Pediatrics not to move a child to a forward-facing seat until at least two years of age.
It's hard to fathom what would actually happen if you were in a major accident with your child. Of course, it's reasonable to think if you're hit from behind the worst place your kid could be facing is towards the impact itself. But this study reassures parents that it is the best, most secure way our kids can be.
Sadly, I remember being excited when my oldest was "big" enough to be forward-facing so I could see her, interact with her, and know she was peacefully sleeping instead of assuming the worst when she didn't make a peep, never believing in a million years I was putting her at risk by doing so.
"Even though the child is facing the direction of the impact, it doesn't mean that a rear-facing car seat isn't going to do its job," Mansfield said. "It still has lots of different features and mechanisms to absorb that crash energy and protect the child. The rear-facing seat is able to support the child's head, neck and spine and keep those really vulnerable body regions well protected."
Global Safety Advocate and Certified Child Passenger Safety Technician, Allana Pinkerton, echoes this recommendation, saying "rear facing puts a child in the optimal position during a crash, protecting the head, neck and spinal cord." Keeping them rear-facing is imperative until they reach the maximum height and weight of the car seat, Pinkerton says, which is typically around 40 to 50 pounds and up to 44 to 49 inches tall, depending on the make and model.