4 In 10 Parents Would Ditch Kids In Coach If Offered 1st Class Seats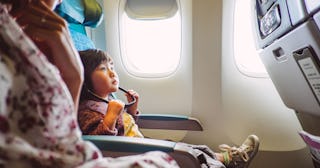 Tang Ming Tung/Getty
If you would leave your kid(s) alone in coach to take an upgraded first-class seat on a flight, you're not alone — in fact, you're almost in the majority
If there is one universal truth that can unite all of humankind, it is this: That flying is stressful AF and always sucks. Multiply that sentiment by about 1,000 for each kid you have to tow along with you on an airplane, and you have the makings for a weird sort of dread sandwich: Going on a trip can be great, but there's that whole airport-and-plane part at the beginning and the end. That's why we're exactly zero percent surprised at the results of a new survey, which captured some of parents' real feels about traveling with their kids — including how many of them would be willing to ditch their kiddos in coach to take a first-class seat upgrade.
That number, overall, is about 40 percent of parents, as it turns out. However, it does depend pretty heavily on the age of the kid(s). Less than 10 percent of parents said they'd leave a kid of "any age" alone in coach. About the same number said they'd be willing to leave a child under age 5. Nine percent said 10 years old is an appropriate age for kids to fly alone behind the first-class curtain, while 12 percent said they'd wait until their child was at least 12. The majority of parents said the correct age for a kid to be left alone on a flight (at least while mom and dad are only a section away, sipping champagne in peace) is 13-and-a-half.
Of the parents surveyed, 76 percent said they've been on a flight with their kids, and 55 percent said they dread the prospect of doing it again. That seems like a lot… until you think about it. A third of parents said their kids have had tantrums at the airport while waiting for a flight, and 36 percent admitted they've been embarrassed by their kids' behavior on a family trip.
More than half of parents — 55 percent — actually feel bad for other travelers. They said they think part of a plane should be reserved for families with kids so no one else has to sit near them. It's worth noting here that this was a survey of British parents; you can assume based on some recent news stories that American parents might not be that polite.
The survey was conducted by Medicspot, a private COVID testing company, who wanted to get a feel for what parents think about traveling at this stage in the pandemic. A spokesman for the company said the survey results are proof that while many families look forward to vacations, they sure don't look forward to travel days.
"Family holidays are fantastic but there is no doubt that the time spent at the airport and on the plane can be amongst the most daunting for parents," they said. "We love taking our kids on holiday with us, but given the opportunity, many of us would relish the opportunity to have some free time and a bit of luxury at 30,000 feet."