Watching 'Sesame Street' Can Actually Help Your Kids Succeed In School And Work
by Cassandra Stone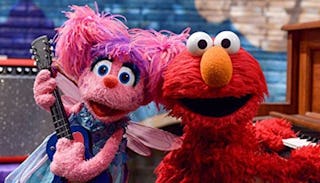 Image via IMDB/Sesame Street
You definitely never have to feel guilty about how much 'Sesame Street' your kids are watching
Sesame Street has been a beloved children's program for four decades — and for so many valid reasons. New research confirms it's good for your kids in ways that will benefit them long after they outgrow the show (then again, does anyone actually outgrow this show?).
According to a recent study published in the American Economic Journal: Applied Economics, the beloved children's program helps improve school performance for children who are exposed to it before the age of seven. It even has more long-term benefits for its young viewers, both educationally and later on in the workforce.
Yep, that's right — Big Bird, Bert, Ernie, Elmo, Abby Cadabby, Count, Cookie Monster, Grover, and even Oscar the Grouch are teaching our kids lessons that last beyond childhood. The researchers behind the study, Melissa S. Kearney and Phillip B. Levine studied data from the U.S. census from 1980, 1990, and 2000 to compare the educational and employment outcomes kids who had access to watch the series to those who did not.
"Sesame Street's introduction generated a positive impact on educational outcomes through the early school years," the study states. Specifically, kids who watched the program regularly were "14 percent more likely to be attending the grade that is appropriate for their age in middle and high school years."
There's also significant data that shows the positive effects for both boys and girls — and, interestingly, the show seems to benefit boys who watch it a bit more. "The data also indicate positive effects for all three race/ethnic groups considered, with larger point estimates for blacks and Hispanics than for white non-Hispanics."
When it comes to the long-term outcomes of the study, the data shows that kids and young students who are exposed to the show are "more likely to be employed and have somewhat higher wages as adults." Academically speaking, those who watch the show also show improvements in test scores and "grade-for-age status."
These findings are pretty significant — and it's amazing there's so many years of data to comb through to find these conclusions. Sesame Street premiered in November 1969, and it aired on public television's PBS throughout its debut before moving to HBO in January 2016. The goal of the show has always been the same: to help kids of all ages, backgrounds, and cultures learn.
Anyone who's grown up with the show or even watched one single episode knows there's just something about Sesame Street that sets it apart from other children's television shows. The calm tones and the pleasant pace of the show are one thing, but the show also teaches mathematics and literacy in ways that aren't intimidating to kids.
The characters are lovable, the plotlines are relatable, and the exposure to various foods, cultures, music, and people make it quite unlike anything else that's ever been on television for children. And it seems like the knowledge young viewers gain from watching it truly pays off in the long run.
This article was originally published on