Study Finds Women Adhere To Mask-Wearing More Than Men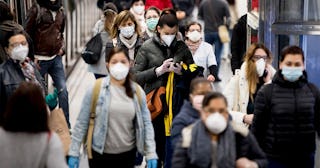 Miquel Llop/NurPhoto/Getty
A new study from researchers at Yale and NYU shows women are better than men at following COVID precautions including wearing masks
As the COVID-19 pandemic has raged for most of 2020, we've been treated to a number of viral videos highlighting the people who refuse to take the most common sense precaution in helping slow the virus to spread: wearing masks. So many Karens, so little time. Maybe that means we're all convinced that women are more likely to flout the advice of science and doctors, but researchers are proving the opposite is true — men are less likely to wear masks or follow other advice given by healthcare professionals including hand-washing, staying at home, and social distancing.
Researchers from New York University and Yale University published a study in the journal Behavioral Science & Policy on the COVID habits of 800 people they surveyed along with observational data including counting mask-wearers on the street over a two-day period and analyzing the movements of Americans based on cell phone data.
The survey showed that women were better than men at following social distancing guidelines, staying at home, washing their hands often, and avoiding spending time with friends and family. Men and women didn't differ much, however, when it came to how often they report contact with people who aren't friends or family.
For the mask-watching in the streets portion of the study, researchers spent time observing people in the streets of New York City, New Haven, Connecticut, and New Brunswick, New Jersey to count how many are wearing masks — and wearing them correctly. Out of the people observed, 127 women and 173 men, 55 percent of the women were wearing masks correctly, and just 38 percent of men were observed doing the same.
When researchers checked out cell phone data to analyze the movements of Americans and any trips to non-essential places like the gym or spa, it was found that counties with higher percentages of men had lower social distancing rates. Even when accounting for areas where people couldn't work from home or had no stay-home orders, men still fared worse than women when it came to social distancing violations.
Irmak Olcaysoy Okten, a postdoctoral researcher in New York University's Department of Psychology and lead author of the study, says the results match what was already known about the health habits of men and women. "Previous research before the pandemic shows that women had been visiting doctors more frequently in their daily lives and following their recommendations more so than men," she said in a press release.
There also seems to be an empathy gap at play that's making women more likely to observe habits that may help others stay healthy and safe. "They also pay more attention to the health-related needs of others," she said. "So it's not surprising that these tendencies would translate into greater efforts on behalf of women to prevent the spread of the pandemic."
The downside of all the pandemic precautions women are taking is that they're more likely to follow news about COVID-19 including advice from experts, politicians, and what they see on social media. That also means women are more likely to be anxious about all the new and horrifying updates popping up every day. That's why it's important to be gentle to ourselves and practice self-care whenever and however possible.
This article was originally published on