Women Are Mistaking Ovarian Cancer For Bloating At An Alarming Rate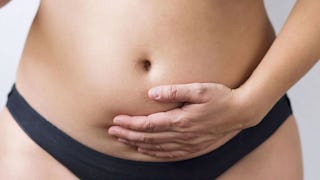 Image via Getty Images
Persistent bloating is a sign of ovarian cancer
Bloating can mean many things to women: too many salty foods or it's that time of the month. But it could also mean ovarian cancer. Women are mistaking ovarian cancer for bloating at alarming rates, according to a new study.
Two-thirds of women in the United Kingdom wouldn't see their doctor if they were dealing with persistent bloating, according to new research from Target Ovarian Cancer, the UK's leading ovarian cancer charity. Half of women in the UK would instead change their diet in an attempt to minimize the bloating instead of seeing a medical professional, the researchers explained. "Bloating can be a symptom of ovarian cancer, which often goes undiagnosed in the early stages as a result," the research group said in a press release.
This is a huge problem because two-thirds of women who have ovarian cancer aren't diagnosed until after the cancer has spread, which makes it harder to treat. Target Ovarian Cancer is hoping that their new report will raise awareness among all women so the next time our favorite jeans feel too tight we stop to think about how long we've been feeling bloated. "Women should not be risking their lives because of the enduring awareness gap around the symptoms of ovarian cancer," explained Chief Executive of Target Ovarian Cancer Annwen Jones. "If women know ovarian cancer symptoms such as persistent bloating and are able to link them to ovarian cancer early on, lives will be saved." About 14,080 women died from ovarian cancer in the United States in 2017, according to the National Cancer Institute.
Only one in five women even know that persistent bloating is a symptom of ovarian cancer, according to research by Target Ovarian Cancer. One of my best friends and a close member of my family survived ovarian cancer and I had no idea bloating was a sign of the disease. Older women are at greater risk of being unaware as well because they're less likely to investigate the cause of their bloating. Women over 55 are the least likely to Google their symptoms, the research group shared. They're also the age group that's most likely to develop ovarian cancer. Only one in three women over the age of 55 would Google the cause of their bloating.
It's crucial we do a better of raising awareness about this disease with our wives, mothers, sisters, friends, and neighbors. Other symptoms of ovarian cancer can include weight loss, change in bowel habits, fluid in the abdomen, indigestion, nausea, loss of appetite, abdominal fullness or a lump in the abdomen.