Why I Scrapped Most Of The Stuff On My Holiday To-Do List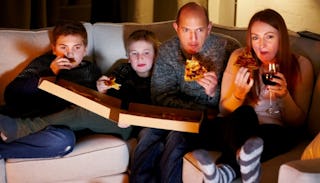 Dean Mitchell / iStock
It's started.
The lunatic race to The Perfect Christmas has begun.
The stores are swelling with garland, light strands, and good tidings of joyfully packaged perfume sets. Pinterest looks like a red and green glitter bomb exploded on its cover page, and TV commercials are running their cringe-worthy "Give your family this $50K luxury car for Christmas!" ads. Bucket lists like "25 Things to Do to Have a Merry Christmas," "10 Must-Take Christmas Photo Ops," "30 Christmas Movies You Need to Watch," "20 Christmas Dinners You Need to Make," and "15 Easy to Make Organic Free Range Christmas Gifts" are spreading across the internet like a brush fire in a drought. The 24-hour Christmas music stations are streaming, Christmas party obligations and dates are filling up calendars, and mail order catalogs selling everything from toys to actual nuts are spilling out of the mailbox.
I already want a long winter's nap.
I am your average 40-something mom with a large family and a busy household to run, and truthfully, the holidays scare the hell out of me. I felt the pangs of Christmas anxiety for the first time a few weeks ago, strolling through a store littered with holly berry and pine-scented candles, 20-foot blow-up reindeer, and shelves overloaded with peppermint bark and giant wheels of red velvet ribbon.
Naturally, the mom's to-do list maker in my brain cranked up:
Unpack and put up decorations
Bake, bake, cook, bake
Buy awesome and appropriate gifts for teenagers (Is there such a thing?)
Take Christmas card family picture. Need to buy dress clothes that actually fit all the kids and find time we're all together and liking each other.
All the family's gift shopping. All of it!
Church plays, school plays, practices, costumes
Wrapping
Parties, cookie swaps, gift exchanges
Christmas crafting with the kids
Mailing Christmas cards and long-distance gifts
Charity toy drive, food drive
…and those were only the thoughts off the top of my head.
I walked out of that store sweating with more yuletide anxiety than Rudolph with a low nose battery. All I could think was that I wanted the most wonderful time of the year to hurry up and jingle all the way to New Year's Eve.
But the more I thought about it, the more I realized my holiday to-do list was really just a written collection of First World mom problems, ideas that had come from big box retailers, Madison Avenue, social media, and the Joneses. Was everything on my list really necessary? What if I just…didn't do some of that stuff that felt so important? Could I do less and still provide a memorable and joy-filled holiday for my family?
Well, Oh Holy Night! The answer is a Hark-Heralding 'Yes!'
So, what do my kids and family actually need to have a Merry Christmas?
Well, I think just one thing really—a thing that wasn't even on my list in the first place:
Time.
Time spent with a happy and sane mom and dad.
This Christmas, the only obligations I truly have are the ones I choose to put on myself. I will ensure the only items on my to-do list are the ones that bring joy, peace, and maybe an actual occasional silent night to our family. I refuse to let what was once considered a sacred holiday bring resentment, impatience and frustration to my family.
There is nothing in a store or an online cart, or on the cover of shiny catalog, that can take the place of a joyful parent. There is nothing worth pinning, baking or creating that is worth more than peaceful time spent with my family. There is no Christmas office party, white elephant gift swap, or holiday open house that is more meaningful than an evening spent on the couch surrounded by kids, eating popcorn and watching Elf. They will remember that.
As a child, I once caught my mom crying while listening to Christmas songs.
I asked her why the songs were making her sad. She told me that Christmas, the time of year when people are supposed to be the happiest, is often the time of year where people are the saddest. It wasn't until many years later that I understood this unfortunate truth—that for many, the cheerful explosion of the holidays are a stark reminder of another season of their suffering. It is a time when grieving spouses, parents, grandparents and widows are trying to navigate through what for others is a joy-filled time, but for them is only a reminder of what they have lost.
Perhaps it is those people who can teach us how to embrace the holidays, how to find joy in moments, not in tinsel, expensive gifts, or the perfect batch of molasses cookies. They can remind us that there is only one really important thing on our holiday to-do list, one thing that ought to be given priority over all others:
The gift of time.
That is all I want this Christmas. I want to live the holidays in the present, not because of presents. I want to wrap my patience and my arms around my children, not boxes. I want to hang on to their every word, not hang more wreaths. I want to picture my family in their best selves, not their best clothes. I want to swap stories with my family, not baked goods with strangers. I want to create organic memories, not forced traditions.
Time. That is the gift I am giving myself, and my family, this year.
This article was originally published on