Only 7 Black Students Were Accepted Into NYC's Most Competitive High School
by Thea Glassman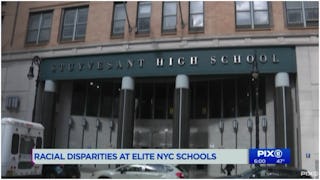 Image via PIX11 News/YouTube
New York City's most competitive high school only accepted a few black students for their incoming class
Here's a depressing statistic. Stuyvesant High School, an extremely selective school in New York City, had 895 slots to fill for their upcoming freshman class. Only seven of the students accepted were black. Unfortunately, that insanely low ratio was seen at other competitive schools throughout the city.
Bronx High School of Science, for instance, only admitted twelve black students into their freshman class. As if this news isn't disappointing enough, the New York Times noted that acceptance rates for black teens have been shrinking year by year. Over at Stuyvesant, 25 black students were accepted in 2017. Only ten were accepted in 2018.
Eight of New York City's most competitive schools require students to take the Specialized High Schools Admissions Test in order to be considered. New York City Parents Union founder Mona Davids noted to The Daily News that inner city students are not receiving the academic tools necessary to prepare for the exam.
"Until the quality of education in New York City improves, nothing is going to make a difference," she said.
The acceptance numbers were almost as dismal for Hispanic teens. They made up only 6.3% of the 4,278 students accepted to New York City's most competitive schools. Worth noting: black and Hispanic students populate two-thirds of the city's student body, according to The Daily News. So…there's a major, major issue going on here.
Rep. Alexandria Ocasio-Cortez, who represents the Bronx and Queens, took to Twitter to call out this huge discrepancy.
"68% of all NYC public school students are Black or Latino. To only have 7 Black students accepted into Stuyvesant (a *public* high school) tells us that this is a system failure," she wrote. "Education inequity is a major factor in the racial wealth gap. This is what injustice looks like."
Meanwhile, members of Stuyvesant's Black Alumni Diversity Initiative have already penned an open letter to New York City Chancellor Carranza about the issue and laid out concrete solutions to help Black and Hispanic students gain fair admissions access. Among other suggestions, the students pushed for the Department of Education to "identify and nurtur[e]" academic talent in every community.
"The goal should be to make sure that children in every city neighborhood have the same access to the type of education that will prepare them for admission to specialized high schools," the alumnus wrote. "Gifted programs should be expanded to accommodate all eligible students, offer entry throughout elementary school whenever students demonstrate aptitude, and citywide and district gifted programs (K-8 and middle school) should be located in educationally disadvantaged communities."
Hopefully, the Department of Education takes note because this situation is completely unacceptable.