11-Year-Old Boy Sets Up Shop In Subway And Gives 'Emotional Advice'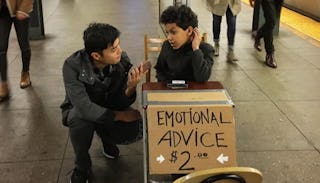 Image via Instagram
He dispenses his wisdom to adults for only $2
An eleven-year-old boy is reminding us adults that sometimes, kids have the answers we're struggling to find. Through the innocent eyes of a child can come the simplest truths and apparently, nuggets of wisdom worth paying for. That's what this kiddo is proving with his profitable "Emotional Advice" booth, where he helps people sort out their most pressing problems.
And it's what he does with the money that makes this story one of the best things to come out of 2016.
Ciro Ortiz is a sixth-grader from Brooklyn and according to the New York Post, he's spent the last few months dispensing his child-like solutions to adult-like problems in the unlikeliest of places — the NYC subway.
His price is a meager $2 and most sessions last about five minutes. But five minutes is apparently all Ortiz needs to help people out, with one woman telling Ortiz' father Adam that, "what he told her is what she'd been feeling in her gut that whole time."
And remember when we said he spent his earnings in an incredible way? His dad says, "He buys food or snacks at school for kids who can't afford them. He's not selfish with his money."
Could this kid be more impressive?
In case you're worried about a child all alone at a subway station chatting up random strangers, know that he's always with his mom, Jasmine Aequitas. She's also the one responsible for documenting his sessions on Instagram.
Ortiz' mom tells The Post, "Ciro is really sensitive and he's had a hard time. The first day he was out there [on the subway platform, giving counseling], he was very nervous and unsure of himself. A few Sundays later he's come back saying, 'I've met so many wonderful people. I'm gonna end up having so many friends.' "
He also tells the paper it was his own experiences with bullying that inspired him to reach out to try and help others.
People ask him questions about lots of topics including jobs, relationships and change. Ortiz says, "We have to accept change. It's going to happen — it's always going to happen. Life is always changing."
Wow. This kid has more wisdom and zen in his little finger than most of us do in our whole bodies.
It sounds like Ortiz is taking his lemons with having been bullied himself and making lemonade, to the benefit of Brooklynites and the rest of us who can be inspired by a kid doing something so amazing. And so bold. In a world where we're all glued to tiny screens and ignoring each other, it's heartening to see a child connecting with perfect strangers and doing what he can to help.
We'd all do well to try to emulate him.