The Suicide Prevention Hotline Is Getting A 3-Digit Number
by Sarah Bregel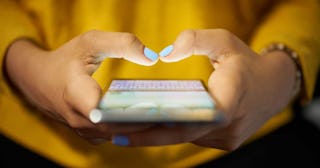 diego_cervo/Getty
It's about to get easier for those contemplating suicide to call for help
The Federal Communications Commission announced on Thursday that they plan to move forward with making a 3-digit number that connects directly to the federally funded suicide prevention hotline. The house passed the bill paving the way for the announcement by a 379-1 margin last November.
The announcement came from FCC chairman, Ajit Pai, who said he was following a staff recommendation on the issue. Pai said the code will likely be 9-8-8 and will take callers to the National Suicide Prevention Lifeline. The number for the hotline is currently 1-800-273-8255 (TALK) and is funded through the Health and Human Services department.
The hope is to make it a bit easier to get help when needed because when it comes to mental health care in America, any extra help may be a good thing. Suicide rates in the U.S. are rising at alarming rates. According to the American Psychology Association, they rose 30 percent from the year 2000 to 2016.
In his statement, Pai spoke about those high rates and why they point to the urgent need for these kinds of changes. He also outlined the details of the report the FCC gave to congress on the issue.
"There is a suicide epidemic in this country, and it is disproportionately affecting at-risk populations, including our Veterans and LGBTQ youth," Pai said. "Crisis call centers have been shown to save lives. This report recommends using a three-digit number to make it easier to access the critical suicide prevention and mental health services these call centers provide."
It's definitely good news. While it might not seem like a huge deal to dial a few extra numbers, people in serious crisis need all the help they can get in accessing someone to talk to as soon as possible. Plus, it's much easier to remember a 3-digit number than a 10-digit one. You don't need to Google it or store it in your phone even. And perhaps in the future, it may even become ingrained in our minds, the same as 9-1-1.
According to the report, directing suicide prevention calls through 9-1-1 is not the best option because those calls are meant to be quick, usually around two minutes or less, to address what the emergent issue is. So, it functions rather differently than a crisis line.
Having a shorter number specific to suicide prevention is clearly a step in the right direction for those in need. And it may even come as a small relief to those who have battled with their mental health, or who have had friends or family members that died by suicide.
While we need better mental health care in this country all around, starting with making help more accessible is still a good thing. At this point, we should be treating suicide as the emergency situation it is and taking any and all steps to ensure that the most at-risk populations know exactly where to find help. Hopefully now, it will be a tiny bit easier to receive it.