Get Your Hat On: The Greatest Accessory Ever Made (Besides Sunglasses)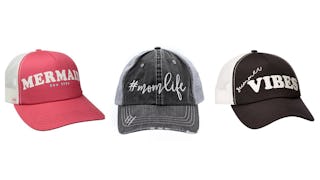 Amazon
A cute, comfortable hat might be my favorite accessory. Throw one on, and you have no idea what is going on underneath. Like the knots I haven't had time to detangle before racing my kids to day camp. Or the greasy roots because I ran out of dry shampoo.
Or hell, because I like keeping the sun out of my eyes while I hang out at the ballpark or playground.
And also, they are hella cute. (In my humble opinion, of course.)
Some of my summer 2017 favorites include:
Mermaid for Life, because the world needs to know
Sunflower. Who doesn't love sunflowers?
Tropical Pineapples (even if you don't get a tropical vacation)
And of course, some folks would prefer their hats without quotes, graphics, or a combination of both of those things. I can dig that too.
If you're like me, and you are starting to amass a collection, this is totally justifiable because they bring me joy and shield my money-maker from harmful UV rays. Bring on the sunshine.
This post contains affiliate links, which means we receive a small portion of the sale if you make a purchase using these links.
This article was originally published on