7 Summer Toys For Outdoor Adventures (And Keeping Kids Out Of Your Hair)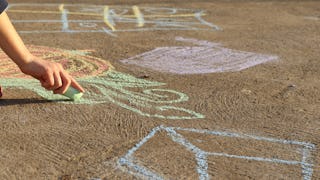 Branislava Grujic / Shutterstock
Summer is around the corner, folks! Sending your kids outside is a great idea, but keeping them from knocking on the door 15 minutes later to say they're bored and want screen time and snacks is the challenge. I am getting our backyard situated with this goal in mind, hoping to encourage my children to enjoy the fresh air while maintaining a balance that doesn't end in them descending into Lord of the Flies territory.
RELATED: Pool Toys That Will Keep Your Water Babies (And Big Kids) Busy For Hours
If you're looking to beef up the amenities at Club Mom this summer, look no further. There's plenty to choose from to keep the cries of boredom at bay.
Nothing beats some time in the sandbox. This one has a seat in each corner for kids who don't want to go all-in and holds up to 200 pounds of sand. The cover is great for keeping debris and critters out when it's not in use, as well as giving you a way to close off access if you don't want your kids playing in there right before you load them in the car.
This is great for kids who haven't quite mastered blowing into a regular bubble wand. They can make tons of bubbles by blowing into this little horn, and what kid doesn't go ape over bubbles? It also has a small tray to pour the solution into so kids can easily dip the horn while eliminating the frustration of an entire container spilling everywhere.
I highly recommend this toy for any parent looking to drain their child of enough energy for that holy grail of summer break — the nap. Kids don't pedal or push around with their feet to get this ride-on moving. They hold onto the wheel and turn it back and forth to get things rolling. It's a sturdy toy that your child can use as they grow, and it might tire them out enough for you to get a break in your day. What more could you ask for?
Water tables are a tried-and-true toy of summer. Your kids can keep cool while splashing around with the toys and mechanisms that come with this specific table. It's entertaining and helps rinse off their hands after some time in the sandbox.
Your kids can have a blast learning about plants and nature while hopefully also helping you with those pesky weeds. This kit comes with a STEM booklet to help your kids learn about the world around them while encouraging an interest in outdoor play and healthy foods. Maybe down the line, instead of bugging you for a snack while they're outside, your child might pick some strawberries or pull a carrot they helped plant and grow.
A lifetime favorite in my house. Why draw on paper when you can color in a tracing of your entire body on the pavement? You can also mark up areas for different games in your driveway, like hopscotch or four square.
Having a mini waterpark in their backyard is sure to get most kids excited and keep them playing long after you fill up the wading pool. And as if a little waterslide wasn't cool enough, there are ring-toss and ball games incorporated into the inflatable structure. Once the summer is through, you can deflate and pack up instead of having a monstrosity sitting on your property year-round.
Whether your aim is to get your kids some exercise or to maintain a shred of your sanity by not having to play cruise director all season, options for outside play are endless. Pull up a chair, grab a book, and let 'em run wild.
This post contains affiliate links, which means we receive a small portion of the sale if you make a purchase using these links.
This article was originally published on