Summer Reading With Kids: The Best Advice From Authors And Teachers
by Erin Wood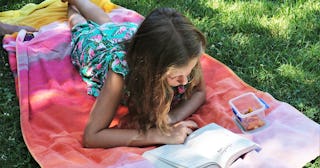 Skylar Jean/Unsplash
As a parent to a 9-year-old daughter—myself an avid reader, editor, and publisher—I've long known that prioritizing books in our lives is important. I have to admit, though, that when our three-picture-books-before-bedtime reading aloud ritual faded, the exhausted, trying-to-do-it-all mom in me wasn't so disappointed.
Now that she spends most of her reading time alone, I've suddenly realized that our connection through reading aloud has virtually evaporated, and I'm missing a major tool in my parenting kit. After all, books have been essential partners in talking through life's most challenging subjects, including the death of her twin brother and the more recent loss of our young dog, being compassionate with herself as she lives and grows in a body born 17 weeks premature, thinking through classroom issues, and letting go when friends move away.
So, this summer, I plan to recommit myself not only to being part of the magic of books alongside her, but to relishing the comfort of books that help us grapple with life's grit.
As I pondered how to reignite this connection, I asked the advice of parents who are also authors, teachers, a librarian, a bereavement specialist, a pediatrician, and others who regularly read to kids.
Here's what they said:
Prioritize Stories as "Good Medicine"
Sayantani DasGupta is a former pediatrician and NYT bestselling author of the Scholastic series "Kiranmala and the Kingdom Beyond." "When I was in practice, I would write prescriptions for reading. I had these notepads especially for the task and would write, after a well child visit, 'Read to your child 20 minutes a day' and then give the family an age and language appropriate book. Physicians all around the country continue this practice because stories are good medicine. Being read to as a young child doesn't just increase early literacy, school performance, and the like, but bonds families and makes clear to young people that reading and listening to stories is a joyous and loving activity."
Prepare Little Listeners' Attention
Carol Dabney is a preschool music teacher, author/illustrator, and mother of five adult kids. She says, "I find it helpful to prepare little ones ahead of time for something they should listen for. In my children's book, "Butterfly Dreams: A Friendship Takes Flight," I tell them we will be enjoying a story about friendship, but we will also learn about the life cycle of the monarch butterfly. I say something like, 'Little caterpillar Carlos will be going through some big changes. Listen carefully to what changes take place so you can tell me about them after we finish.' I also leave plenty of time for them to explore the illustrations. It's fun to see what they notice, and it's okay to talk about it as we go."
Let Them Choose + Make Readings Playful
Crystal C. Mercer is the author and illustrator of "From Cotton to Silk: The Magic of Black Hair," whose pages reveal 467 hours of hand-stitched textile renderings. Mercer's theatre background guides her as she shares it with young audiences, "I find the best way of connecting with kids is engaging them in all aspects of the story. When I read with my nieces, I let them choose the books. I use different voices for different characters, stop to ask them what they see on the page outside of the text, and encourage them to read along with me. Sometimes we add plot twists and alternate endings. Reading is such an adventure! Connect with kids on their level and then take them on a wild storytelling ride."
Ashley Franklin—whose character Tameika's confidence is shaken by other kids' whispers, snickers, and glares in "Not Quite Snow White"—agrees. "Be open to their interests when selecting books. It's a phenomenal feeling when you hold a book in your hand that you know was suggested to you by someone who was genuinely listening. Then, build up the anticipation of reading time—whether it be reading together or solitary. Like any other great moment in their lives, you want reading time to feel special. Create an inviting environment where questions can be asked, predictions can be made, and feelings can be shared. If reading is presented as a bore or it feels like a chore, of course you won't get the level of engagement that you want. That's not how you build a love for reading. Make it exciting! Kids will tend to match your enthusiasm."
Help Deepen Comprehension
Tracy Peterson is a veteran first grade teacher and author of "Cartwheels: Finding Your Special Kind of Smart," a book that opens conversations with kids about dyslexia. Peterson says, "Reading with early readers doesn't always need to mean that they're the ones reading out loud. Comprehension is also a key piece. Consider reading to them and asking questions that make them think about the story. Some of my favorites in the classroom are: What does this story remind you of? (This one helps them make connections between the text and their own lives.) What do you think was the author's purpose in this book? What were the problem and solution? Would you have ended the story differently? If your child is hesitant to answer, you can begin by modeling for them until they get the hang of it."
Explore Challenging Topics
Greg Adams has served grieving children and families for nearly three decades at Arkansas Children's Hospital. His book, "Adam Gets Back in the Game," helps open conversations with children about death, loss, and how grieving can help them more fully return to living. About the role of books in helping children and families work through challenging topics, Adams says, "Reading to and with children is a great thing for many reasons, and one of them is the opportunity to introduce and explore sensitive topics in a safe and supported space. One of those topics is death and dying. We know all children will experience the death of someone important to them at some point and reading stories that include death can provide children a better foundation for understanding and future needed discussions."
Cultivate Individual Interests
Middle school librarian Jen Agee, whose 8-year-old daughter is a rising third grader, says, "Find books that support your child's or children's' interests and read them together. My daughter was really enjoying the Greek mythology section in school, so I started reading the Percy Jackson series to her at night. Also, I think it's important to let our kiddos see us reading for pleasure. Sometimes we'll set a timer on a weekend and all find a separate book to enjoy for those 20 minutes."
Help Your Child See Themselves in the Story
Sayantani DasGupta also shared, "When I was a young Indian immigrant daughter growing up in this country, I never got to see someone who looked like me as the protagonist in stories. After years of this narrative erasure, I began to wonder if someone like me could be a hero—deserved to be a hero. And the answer of course is yes, we all deserve to see ourselves as heroes, but I didn't realize that then. Which is why, years later, I wrote my Kiranmala series, and then, more recently "Force of Fire," for that big reader little girl I once was, so my own kids never had to experience that self-doubt that comes from not seeing themselves in books. I wrote these fast-paced fantasy adventures starring an Indian immigrant daughter who really turns out to be an intergalactic princess in order to answer Toni Morrison's call: 'If there's a book you want to read and it hasn't been written yet, then you must write it'!"
Invest in a Series
Sarah-Catherine Gutierrez, author of "But First Save 10: The One Simple Money Move That Will Change Your Life," spends much of her time educating women on savings—including school groups, Girl Scout troops, and her own three kids. Gutierrez says, "I like reading a series. You get invested in the plot alongside your kids, making it a little more interesting and more likely that you'll read, even if you're tired and just want to go to bed. We are reading 'Dragon Masters' on recommendation from our local bookstore, and I enjoy the plot variations and the magical world. It also engages the four-, six-, and eight-year-olds equally. I ask the oldest to read the first few pages with pizzazz to model, and then I read two chapters."
Capitalize on Your Own Nostalgia
Some of my own favorite memories at Camp Fern in Marshall, Texas, were of counselors reading titles like "Island of the Blue Dolphins" by Scott O'Dell. I close my eyes, and I am back in my cabin, dark save for the counselor's flashlight illuminating her face and the book's pages, her voice holding us captive over the whirring of our personal fans. My daughter is the same age I was when my ears filled with the perilous plot unfolding—when I learned that on the island of Ghalas-at, Karana woke to discover the shock that her brother Ramo had been eaten by the island's wild dogs. I want to nurture that sense of "I can't wait for the next page" in her, because I hope it will feed her for a lifetime, as it has me.